Main content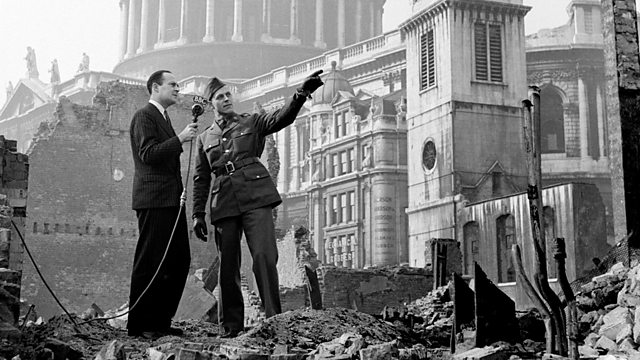 Kurt Schwitters, On the Edge, Gender, The Love Charm of Bombs
Matthew Sweet on the late work of Kurt Schwitters, one of the major artists of European Modernism. His collages and sculptures are assembled for the first time at Tate Britain.
As the first major exhibition to examine the late work of Kurt Schwitters opens at Tate Britain, Night Waves tonight reassesses the oeuvre of the German painter, sculptor and writer. Schwitters became associated with the European Dada movement but went on to form his own one-man movement called 'Merz' - the theory that all materials are equal in status to paint. Art critic Charlotte Mullins considers whether the exhibition - which focuses on his British period - is successful in capturing this period of the artist's work.
Matthew Sweet talks to the author and sociology lecturer Dr Rupa Huq about her forthcoming book On the Edge, in which she argues that the English suburb has gone from being a paradise to a pressure cooker, and is now the new "inner city".
Gender has been a topic for national debate recently, focusing on the relationship between transgender women and traditional feminist politics. The modern distinction between sex and gender dates from the post-War period, with sex defined in biological terms and gender as a social category. But does the emergence of a vocal transgender lobby change the terms of the debate? Matthew is joined by the feminist writer and campaigner Julie Bindel, the writer Jane Fae and Lynne Segal, Professor of Psychology & Gender Studies at Birkbeck.
Matthew Sweet talks to Lara Feigel about her new book The Love Charm of Bombs, a wartime biography of five writers, amongst them Graham Greene, Elizabeth Bowen and Rose Macaulay who volunteered as ambulance drivers and ARP wardens.
That's Night Waves, tonight at 10pm with Matthew Sweet, here on Radio 3.
Producer: Estelle Doyle.
Chapters
Schwitters in Britain

A review of the exhibition Schwitters in Britain.

Duration: 07:39

Suburbia

An interview with Rupa Huq about her new book on English Suburbia, On The Edge.

Duration: 09:10

Gender

A debate on the concept of gender as a social category.

Duration: 15:15

The Love-charm of Bombs

An interview with Lara Feigel about her new book, The Love-charm of Bombs.

Duration: 11:34

On The Edge

On The Edge: The contested cultures of English suburbia, by Rupa Huq is published by Lawrence & Wishart.

The Love-charm of Bombs

The Love-charm of Bombs: Restless Lives in the Second World War, by Lara Feigel is available now, published by Bloomsbury.