Main content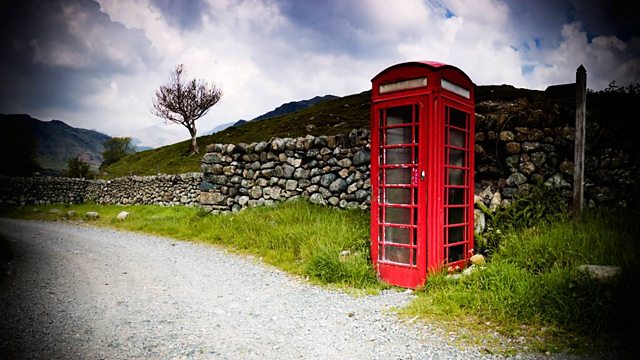 Paul Evans - Chapel of Skins
A ghostly meeting of ways at a remote crossroads. Recorded high in the Shropshire hills of the Welsh Marches. Stars Paul Evans. From January 2013.
Recorded high up in the Shropshire hills of the Welsh Marches, and inspired by a living landscape and its history, the Chapel of Skins is a fictional story about a ghostly meeting of ways, written and narrated by Paul Evans with wildlife sound recordings by Chris Watson.
High in the hills of the Welsh Marches, a remote crossroads is marked by a telephone kiosk and an old stone chapel. It is a mysterious and beautiful place, steeped in history because of the ancient tracks which cross here like the centre of a compass.
North, south, east, west: each direction is a 'way' ; a path or opening affording passage from one place to another. Along each way of travel comes a way of being; a voice telling a story. Each story is set in a different time but arrives in the same place. These voices have very different histories but are drawn by necessity to the mystical yet sinister Chapel of Skins which reflects the beauty and harshness of Nature at this crossroads.
The drama becomes intense as each character must tell their stories to the listener before the chapel bell tolls midnight on the twelfth day of the twelfth month of the twelfth year. Only at that moment will the chapel door open in a bizarre midnight ritual and the lost souls find sanctuary. So, the Chapel is a way too, a gateway affording passage from one place to another. If they fail to tell their stories, the fate of these restless figures, these voices in the landscape, is to wander the hills for another hundred years.
Wildlife sound recordist: Chris Watson
Directed and Produced by Sarah Blunt.
Last on
Best of Natural History - Podcast
Credits
| Role | Contributor |
| --- | --- |
| Phone Box | Paul Evans |
| Trebrodier | Liza Sadovy |
| Anchor | Ben Crowe |
| Quabbs | Alex Tregear |
| Writer | Paul Evans |
| Director | Sarah Blunt |
| Producer | Sarah Blunt |
Broadcasts