Main content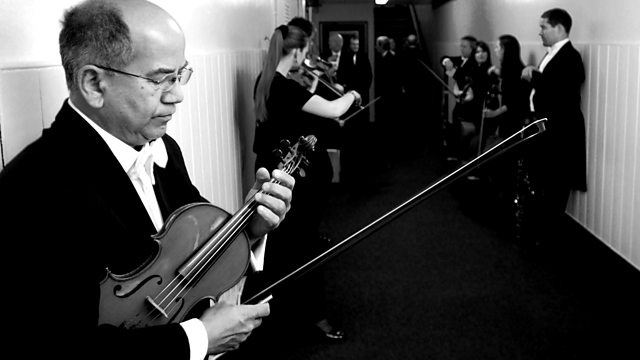 Katie Derham hosts recent performances by the Ulster Orchestra, with Nordic music by Sibelius, Nielsen and Christian Lindberg, and music from the Americas by Golijov and Gershwin.
Katie Derham showcases recent performances by the Ulster Orchestra. The focus this week has been on music from Nordic countries and music for voice and orchestra - today the two themes come together in Christian Lindberg's Helikon Wasp for conducting trombonist, narrator and orchestra.
The concert Lindberg conducted with the Ulster Orchestra in October begins with the Helios Overture by Nielsen - inspired by the Greek sun-god, Helios, a charioteer who drives from east to west across the sky. Lindberg then picked up his trombone to conduct and narrate his own work, Helikon Wasp - who ever said only women can multitask? Helikon Wasp is a theatrical piece which came to Lindberg in a Swiss airport: "I had been playing a concert during which I had felt rather disappointed with the empty intellectualism that sometimes creeps into the world of classical music... Helikon Wasp is a sort of hero who does not have any convictions except doing whatever his mind and soul tell him to do, and the thing he hates more than anything else is intellectual mannerisms." And the Nordic part of the programme ends with Sibelius's First Symphony - or at least the first one he felt was enough like a Symphony to give it a number.
After that, we cross the Atlantic to the Americas for two works with Jewish connections. The roots of Osvaldo Golijov's The Dreams and Prayers of Isaac the Blind for clarinet and string orchestra are deeply planted in Hebraic tradition. Golijov's ambition was to fuse thematic elements of the Jewish klezmer tradition with the kind of string writing found in Brahms and Mozart. The programme ends with Gershwin's Piano Concerto in F - surely one of the jazziest pieces ever written by a Russian Jew from Brooklyn. Gerswhin admitted that the pre-premiere performance of this concerto was the "greatest musical thrill" of his life.
Nielsen: Helios Overture
Ulster Orchestra,
Christian Lindberg (conductor).
2.10pm
Lindberg: Helikon Wasp
Ulster Orchestra,
Christian Lindberg (conductor, narrator, trombone).
2.30pm
Sibelius: Symphony No. 1
Ulster Orchestra,
Christian Lindberg (conductor).
3.10pm
Osvaldo Golijov: The Dreams and Prayers of Isaac the Blind
Ulster Orchestra,
David Krakauer (clarinet),
Katarina Andreasson (conductor).
c. 3.55 pm
Gershwin: Piano Concerto in F
Peter Donohoe (piano),
Ulster Orchestra,
Dmitri Slobodeniouk (conductor).
More episodes
Next
You are at the last episode