Main content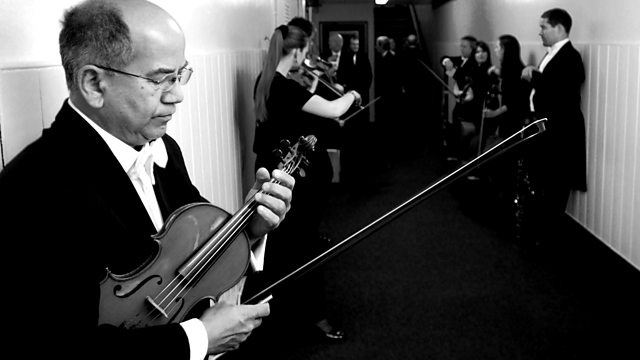 Katie Derham showcases recent performances by the Ulster Orchestra - music by Grieg (Two Elegiac Melodies), Berlioz (the song cycle Les nuits d'ete), Prokofiev and James MacMillan.
Katie Derham showcases some of the Ulster Orchestra's recent performances - each day featuring music from the Nordic countries and music for voice and orchestra.
Today's programme begins at a concert last year in the Ulster Hall when the composer James Macmillan conducted interludes from his opera "The Sacrifice". The opera draws on the ancient collection of Welsh folktales "The Mabinogion", and tells of a ruler's ultimate sacrifice to safeguard the future of his war-torn, faction-ridden country. Macmillan and the UO are then joined by pianist Freddy Kempf in a performance of Prokofiev's brilliant if sometimes frenetic Third Piano Concerto.
The Nordic piece today is Grieg's two beautiful Elegiac Melodies. They were originally songs for voice and piano, to texts by A O Vinje, from a group of Ten Songs Grieg wrote in 1880; he transcribed them for strings the following year. The subject matter is grief-laden - particularly in The Last Spring where Grieg portrays a dying man.
And the programme ends with true song: Berlioz's song-cycle "Les nuits d'été" - "Summer Nights".
2pm
MacMillan: The Sacrifice - Three Interludes
Ulster Orchestra,
James MacMillan (conductor).
2.15pm
Prokofiev: Piano Concerto No. 3
Freddy Kempf (piano),
Ulster Orchestra,
James MacMillan (conductor).
2.45pm
Grieg: Two Elegiac Melodies, Op. 34 (The Wounded Heart; The Last Spring)
Ulster Orchestra,
Christian Lindberg (conductor).
2.50pm
Berlioz: Les nuits d'été
Katherine Broderick (soprano)
Ulster Orchestra,
Jean-Luc Tingaud (conductor).