Main content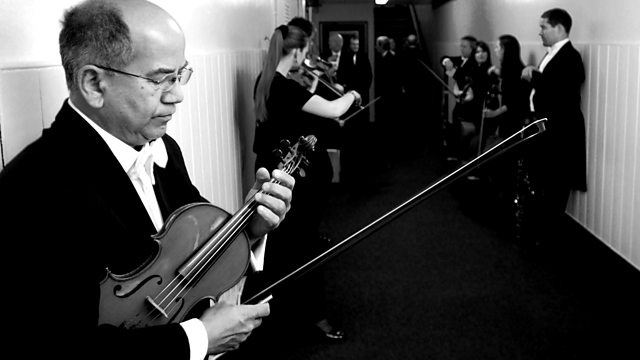 Featuring the Ulster Orchestra. Britten: Soirees musicales. Berg: 7 Early Songs. Schumann: Symphony No 4. Sibelius: The Dryad. Mendelssohn: Violin Concerto. Mozart: Gran Partita.
In this week's Afternoon on 3, Katie Derham showcases some of the Ulster Orchestra's most recent performances, with a particular focus on music from the Nordic countries and music for voice and orchestra.
Today's Nordic piece is one of Sibelius's shortest and most original orchestral works, Dryaden (The Dryad) - a miniature depicting the tree nymphs. And the work for voice and orchestra is 'Seven Early Songs' by Alban Berg. Begun in 1905, while he was studying with Schoenberg, they illustrate Berg's development from a composer of late romantic love songs to a master of modern music. Also included in today's programme are Britten's Soirées musicales, Mendelssohn's Violin Concerto in E minor, Schumann's Fourth Symphony and Mozart's sublime work for woodwind, the Serenade in B flat, K.310 - with a Nordic conductor, Katarina Andreasson from Sweden.
Britten: Soirées musicales
Ulster Orchestra,
Andrew Litton (conductor).
2.10pm
Berg: Seven Early Songs
Orla Boylan (soprano),
Ulster Orchestra,
Jurjen Hempel (conductor).
2.25pm
Schumann: Symphony no. 4 in D major (original version 1841)
Ulster Orchestra,
Jurjen Hempel (conductor).
2.50pm
Sibelius: The Dryad
Ulster Orchestra,
Takuo Yuasa (conductor).
3pm
Mendelssohn: Violin Concerto in E minor, Op. 64
Ulster Orchestra,
Bella Hristova (violin),
Paul Watkins (conductor).
3.25pm
Mozart: Serenade in B flat, K.361 (Gran Partita)
Ulster Orchestra,
Katarina Andreasson (conductor).
More episodes
Previous
You are at the first episode