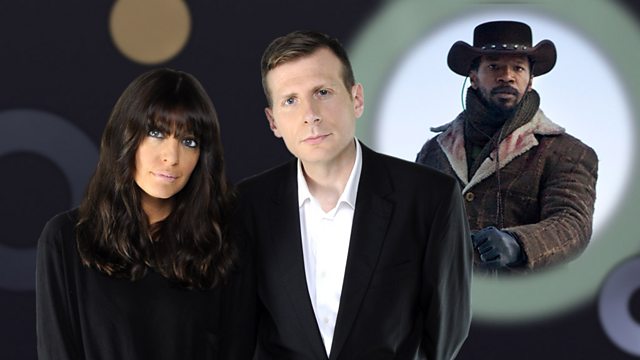 Quentin Tarantino returns to the big screen with Django Unchained, starring Jamie Foxx, Christoph Waltz and Leonardo DiCaprio; John Hawkes and Helen Hunt get up close and personal in poignant drama The Sessions; and Chris Hewitt reveals his top five movie shootouts.
Last on
Review of Django Unchained - Danny's Film of the Week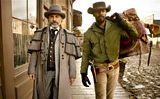 Danny: I don't come at this movie as a Tarantino fan, but I think Django Unchained is terrific. It's very funny and it's brutal - sometimes both at once - and it's instantly recognisable as a film which couldn't be made by anyone else.  It's also insanely entertaining. For those who have felt iffy about Tarantino for some time, this is like welcoming back an old friend.  No one sprays blood across a screen quite like him but when he's on form there's so much more going on here. The rhythm of the dialogue is a thing of beauty. He's weirdly overrated but at the same time doesn't get enough credit.
There has been an awful lot about Tarantino and violence in the news, and if you don't like violence and gun-play, you are better off having a Radox bath than watching a Tarantino film. I think the interesting thing about the violence here is the violence that he doesn't show, rather than that which he does. You never for one second doubt how seriously this movie takes slavery, and I think that's a real achievement.
Claudia: If you see this film you will want to stand up and shout obscenities - in a good way - and possibly punch the air, because you will love it; you will feel invigorated.  Christoph Waltz is brilliant; Samuel L Jackson is brilliant. There are moments in this film that are hilarious. There's a moment when he [Django] is wearing blue, and a moment when he says, "Say goodbye to Miss Laura..." I'm not going to say anything else but when you see it you will know exactly what we mean. These are perfect.
I've seen it twice: once with somebody who loved it, and again, with somebody else, who found the violence just too much. It's been in the news a lot, and it would be silly not to mention it.
Review of The Sessions - Claudia's Film of the Week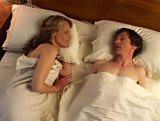 Danny: In terms of the awards season, The Sessions hasn't really even been invited to the party, and I think that's a shame.  I think the reasons that it's been ignored are pretty much the reasons that it should be embraced. It's understated and underplayed, and it tells what is a very moving story without leaving your heartstrings feeling like they've been molested. It's also got a really refreshing attitude towards sex. In big Hollywood blockbusters these days they try to pretend sex doesn't even really exist but here, John Hawkes' character is learning this incredible new language from Helen Hunt's character and sex is fun, and healthy. It's nice to have a movie which is a truly an adult film, in the best sense of the word.
Claudia: It's absolutely adult. The performances are fantastic and it's funny - bits of it are laugh-out-loud funny.
Credits
| Role | Contributor |
| --- | --- |
| Presenter | Claudia Winkleman |
| Presenter | Claudia Winkleman |
| Presenter | Danny Leigh |
| Presenter | Danny Leigh |
| Series Producer | Jayne Stanger |
| Series Producer | Jayne Stanger |
| Executive Producer | Basil Comely |
| Executive Producer | Basil Comely |