Main content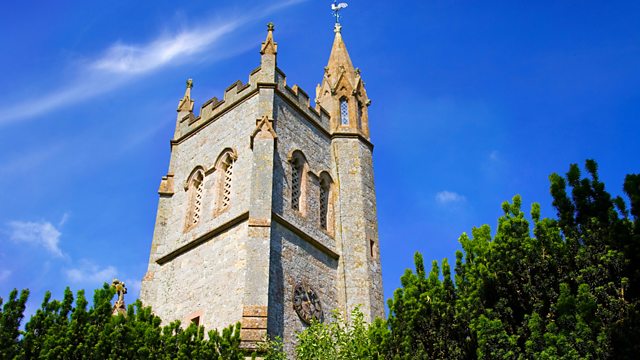 20/01/2013
From St Martin-in-the-Fields, exploring how the American people previously renewed their dream and can do so again, as they mark the second inauguration of President Obama.
Learning to Dream Again: President Obama's second inaugural address will come in troubled times. But so did Abraham Lincoln's second inaugural. This service, live from St Martin-in-the-Fields, explores the connections between Lincoln's 1865 speech, delivered during the civil war, and the situation facing the world today. It includes lively American music and an anthem specially written for this service. Address: The Revd Prof Mark McIntosh, Van Mildert Professor of Divinity in the Department of Theology and Religion at Durham University, who previously served as a chaplain to the House of Bishops of the Episcopal Church, and as canon theologian to the 25th Presiding Bishop and Primate. Leader: The Revd Dr Samuel Wells (Vicar). Director of Music, Andrew Earis. Producer: Clair Jaquiss.
St Martin-in-the-Fields
Sunday Worship
19th January, 2013
St Martin-in-the-Fields
Please note:

This script cannot exactly reflect the transmission, as it was prepared before the service was broadcast. It may include editorial notes prepared by the producer, and minor spelling and other errors that were corrected before the radio broadcast.

It may contain gaps to be filled in at the time so that prayers may reflect the needs of the world, and changes may also be made at the last minute for timing reasons, or to reflect current events.
Radio 4 Opening Announcement: 
BBC Radio 4.  And time now for Sunday Worship which today comes from St Martin-in-the-Fields in London.  The design for the building was so influential in eighteenth-century America that several hundred churches in the New World were modelled on it and today countless Americans make their way to it as home from home.  In honour of these links with the United States, today's service reflects on the second inauguration of President Barak Obama.  The vicar of St Martin's, the Reverend Dr Sam Wells, leads the service which begins with the hymn, Amazing Grace.  (32")
Amazing Grace
Sam Wells - Introduction/Prayer
Good morning and welcome to St Martin-in-the-Fields. Today and tomorrow, in Washington DC, Barack Obama will take the oath of office for his second term as President of the United States, rather poignantly on Martin Luther King Day itself. President Obama carries the expectations and good will of so many people across the world, but also the burden of discouraged hopes and broken hearts, from the impasse on Capitol Hill to the massacre at Sandy Hook, Connecticut. 
148 years ago Abraham Lincoln took the oath for his second term as American President. The Civil War between the northern and southern states was nearly over, but already by that day in 1865, a million people had died in the conflict. Lincoln knew it would take amazing grace to release America not just from the slavery of bonded labour, but also from the slavery of profound social divisions and bitterness.  Today we look back at the chaos that Lincoln faced and the grace that he sought, and in his words and his vision find wisdom and strength for the challenges facing America and our world. We've all heard of the American Dream – that everyone, regardless of background, can make their life better or richer or fuller. The challenge for President Obama and for us, as it was for Lincoln, is to learn to dream again. 
Let us pray.
God of each new dawn, you have anointed prophets and priests and leaders of your people. Look with mercy on the suffering of your children in economic distress, in the aftermath of violence, and in the dearth of hope. Raise us up this morning as a people who look to your new day, that we may each find our vocation in your kingdom – and, in your service, perfect freedom. Amen. 
The St Martin-in-the-Fields High School Gospel Choir express the hope of this new day in the spiritual, 'My Lord, what a morning.' 
My Lord what a morning/Burleigh/3 verses - High School Choir
Sam Wells
Dan Kaszeta worked for 12 years in the White House. Here he reads from the Wisdom of Solomon, chapter 3.
Dan Kaszeta  - Reading
The souls of the righteous are in the hand of God, and no torment will ever touch them. In the eyes of the foolish they seemed to have died, and their departure was thought to be a disaster, and their going from us to be their destruction; but they are at peace. For though in the sight of others they were punished, their hope is full of immortality. Having been disciplined a little, they will receive great good, because God tested them and found them worthy of himself; like gold in the furnace he tried them, and like a sacrificial burnt-offering he accepted them.
Sam Wells
The Choir of St Martin-in-the-Fields sing verses from Psalm 19.
Choir - Psalm 19:7-13 (sung)
Katherine Hedderly - Matthew 18:2-7
A reading from Matthew chapter 18. Jesus said, 'Truly I tell you, unless you change and become like children, you will never enter the kingdom of heaven. Whoever becomes humble like this child is the greatest in the kingdom of heaven. Whoever welcomes one such child in my name welcomes me. If any of you put a stumbling block before one of these little ones who believe in me, it would be better for you if a great millstone were fastened around your neck and you were drowned in the depth of the sea. Woe to the world because of stumbling blocks! Occasions for stumbling are bound to come, but woe to the one by whom the stumbling block comes!' 
Sam Wells
The people who founded the United States had in many cases fled from oppression elsewhere. They saw the new nation as having a unique destiny in the world. That vision of freedom wasn't always consistent, as slaves and Native Americans knew all too well. This hymn balances the sense of America's special vocation with a recognition of God's call to all the people of the earth.
This is my song/Finlandia/Lloyd Stone and Georgia Harkness/3 verses
Sam Wells - Introduction to Lincoln
The release of Stephen Spielberg's film has brought the figure of Abraham Lincoln back to the centre of international consciousness. With the Civil War all but won, Lincoln reflected in his second inaugural address on the mystery of divine providence. He wondered why God had let the war come, and had let it rage so terribly; and how both sides could pray to the same God. And yet he had no doubt about the evils of the slavery that had precipitated the war. Roger Shaljean now reads from this remarkably short address, recently described as 'one of the most overwhelming pieces of political prose ever crafted in any language.' Here Lincoln speaks, as he himself puts it, 'with malice toward none, with charity for all.'
Roger Shaljean - Excerpt from Lincoln's Second Inaugural
Both [sides in the war] read the same Bible and pray to the same God, and each invokes His aid against the other. … The prayers of both could not be answered. That of neither has been answered fully. The Almighty has His own purposes. "Woe unto the world because of offenses; for it must needs be that offenses come, but woe to that man by whom the offense cometh." If we shall suppose that American slavery is one of those offenses which, in the providence of God, must needs come, but which, having continued through His appointed time, He now wills to remove, and that He gives to both North and South this terrible war as the woe due to those by whom the offense came, shall we discern therein any departure from those divine attributes which the believers in a living God always ascribe to Him?
Fondly do we hope, fervently do we pray, that this mighty scourge of war may speedily pass away. Yet, if God wills that it continue until all the wealth piled by the bondsman's two hundred and fifty years of unrequited toil shall be sunk, and until every drop of blood drawn with the lash shall be paid by another drawn with the sword, as was said three thousand years ago, so still it must be said "the judgments of the Lord are true and righteous altogether."
High School Choir - Precious Lord, take my hand
Sam Wells
Our preacher is Mark McIntosh, Van Mildert Professor of Divinity at Durham University and canon of Durham Cathedral. 
Mark McIntosh Sermon
At the heart of Lincoln's Second Inaugural address, often thought of as a kind of American testament, is the passage from Matthew's Gospel we've just heard read. There Jesus counsels his agonizing and contentious disciples. He holds before them, and before us all, the image of children, these little ones, whose hopefulness and vulnerability we can hardly bear to look upon sometimes (shaming us by their trust in us as they do) – these little ones, who are, says Jesus, most especially at home in the Kingdom of God. With tenderness and a strong grieving love, Jesus adds, yes, offences and terrible things may come in this world. But woe to those who bring them about, woe to those who cause even one of these little ones to stumble, to lose their way, lose faith, lose hope.  'Woe unto the world because of offences!' echoes Lincoln. And the greatest offence would be if, because of the evils that have come, goodness should lose heart, or that the very aspiration for goodness and compassion should come to seem in vain.
What can cause us to stumble most deeply is unclarity about our own faith, about the true foundations of our belief in God. Sometimes our faith and hope are shaken either because God seems apparently unwilling to answer our prayers or those of others. Sometimes because we are scandalized by the dreadful thought that we and others may be praying to the same God for diametrically opposed things. As Lincoln noted with sorrow about his fellow citizens in the North and the South: 'Both read the same Bible, and pray to the same God; and each invokes His aid against the other. . . . The prayers of both could not be answered; that of neither has been answered fully. The Almighty has his own purposes.'
In the mouth of anyone but Lincoln 'the Almighty has his own purposes' could seem like an atrocious dodge. But if anything might be bequeathed to his grateful nation down the years, and indeed to President Obama on his inauguration day, it is surely Lincoln's indomitable hope. Lincoln's hope was that beyond the brittle certainties of this group or that, and beyond the appalling evidence of our capacity for inhumanity, there shines a great goodness – a goodness mysteriously working out its purposes in this world. Our faith in God's goodness cannot be shaken when our own idols of certitude are wrenched from us. Nor need we lose faith even when God's purposes seem too large for us to hold within the current reach of our desire.
We can see that this was indeed Lincoln's meaning from words he wrote three years before his Second Inaugural, in a letter to the American Quaker Eliza Gurney: 'The purposes of the Almighty are perfect, and must prevail,' wrote the President, 'though we erring mortals may fail to accurately perceive them in advance. We hoped for a happy termination of this terrible war long before this; but God knows best, and has ruled otherwise.  We shall yet acknowledge His wisdom and our own error therein.  Meanwhile, we must work earnestly in the best light He gives us, trusting that so working still conduces to the great ends He ordains.  Surely He intends some great good to follow this mighty convulsion, which no mortal could make, and no mortal could stay.'
Jesus drew the eyes of his disciples to the children in their midst. Here was a faith that, though vulnerable in its trust, was yet dauntless and endlessly renewing in its great openness.  Precisely because children trust in a goodness far greater than the measure of our own minds, these little ones leave themselves open to the greater good that God always intends. They show us how to make ourselves the more available to work with countless others – though we may disagree with them about much – for sake of a goodness that far exceeds the more limited views of us all.
So we may wish to ask that some share in this trusting openness to God's goodness might be granted to President Obama and to all people. This is, of course, a risky sort of prayer, a dangerous thing to ask for, and we might well not recognize the answer God gives to each of us. In the Garden of Gethsemane, Jesus asked that he might be spared the cup of his suffering and death. It seemed to him, as so often to most of us, that his prayer was left terribly unanswered. But the Father's answer to his beloved child, to this little one whose trust and hope he would never allow to stumble, was not a longer life-span but the resurrection of Easter Day.  Not less than Jesus asked for, but infinitely more. And that is often, it seems, how God does answer prayer: not by giving us the smaller thing we can see far enough to want at any given time in our own lives or in the history of the world, but by leading us onwards into that greater goodness which is the true source of all our desires, that goodness which is simply God. And Christ himself is the sure foundation that no child, nowhere on God's good earth, need ever hold this hope in vain.
May we all be given grace so to live that no deeds of ours may ever cause one of God's children to lose this hope. By grace may we each in some small way be a sign and pledge of that greater goodness which is the hope of all the human family.
Sam Wells
In 1873 Chicago lawyer Horatio Spafford sent his wife and four daughters to England for a holiday and went New York to wave them off. Nine days later he received a telegram from his wife with the unimaginably horrifying words, 'Saved alone.' He got the next boat to England, and when the ship passed the point of the tragedy that had claimed his four daughters and 222 others, he went to his cabin and wrote this extraordinary hymn.
It is well with my soul/Spafford/Clausen
Sam Wells - Prayers
Let us pray.
God of incarnation, when we struggle with ourselves, with one another, and with you, you come to meet us in your Son. Be close today to all who feel like they are drowning amid the storms of life. Show your face to those who feel they can strive no further. And restore them in your glory.
Lord, in your mercy,
Hear our Prayer.
God of the cross, look with mercy on the American people today. Bless President Obama, the Congress, and all who seek justice, prosperity, understanding and freedom for all in the land. Encourage those who have no taste of the wealth of the nation, any who live in prison or in ghetto or in daily fear, and all who have more to give than society wants to receive. Turn their sadness into joy. Lord, in your mercy,
Hear our Prayer.
God of resurrection, you give us not less than we ask, but more. Take our failures and turn them into wisdom; take our regrets and turn them into insight; take our hurts and turn them into compassion. Inaugurate in us a pledge of allegiance to your kingdom, your gospel, and your grace, that we may look back on this day, and name it as the day we learnt to dream again.  Amen.
In this Week of Prayer for Christian Unity, we ask God's forgiveness, seek God's kingdom, and look for the day when we shall gather together around God's table in glory, in the words Jesus taught us.
Our Father, who art in heaven, hallowed be thy name. Thy Kingdom come. Thy will be done in earth, as it is in heaven. Give us this day our daily bread. And forgive us our trespasses, as we forgive them that trespass against us. And lead us not into temptation, but deliver us from evil. For thine is the kingdom, the power, and the glory, for ever and ever. Amen.
Sam Wells
The anthem has been specially written for this service, to coincide with President Obama's second inauguration. It's called 'Learning to Dream Again.'
Learning to Dream Again/Simple Gifts/Appalachian Spring/Copland/Wells
Sam Wells - Blessing
God the Holy Trinity give you a faith of innocence and trust, yet dauntless and endlessly renewing openness. And may the blessing of God almighty, the Father, the Son, and the Holy Spirit, be upon you and remain with you now and always. Amen.
Come thou fount of every blessing/Nettleton/Robertson
Organ Voluntary
Radio 4 Closing Announcement:
Sunday Worship came live from St Martin-in-the-Fields in London. The service was led by the vicar, the Reverend Dr Sam Wells and the preacher was the Reverend Prof Mark McIntosh, Van Mildert Professor of Divinity from Durham University.  The choir of St Martin's High School was directed by Clinton Jordan.  Andrew Earis directed the church choir and the organist was Nicholas Wearne.  The producer was Clair Jaquiss.
Next week, Sunday Worship comes from the Metropolitan Cathedral of St David in Cardiff.  That's at the usual time of 10 past 8, here on BBC Radio 4.  [Sunday Worship during Lent takes the theme 'This is our story', linking stories of faith from the bible with life today.  Resource materials from Churches Together in Britain and Ireland for groups or individuals can be found on the Sunday Worship web page. ]
 (50")