Main content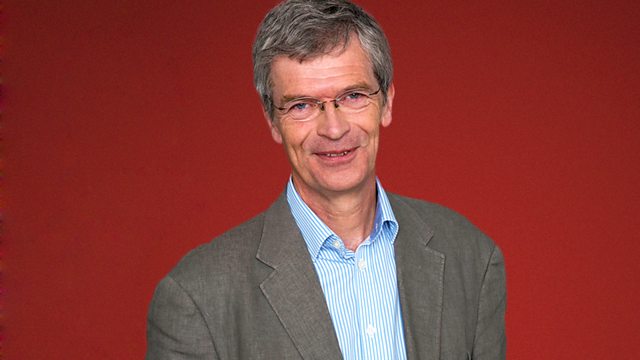 26/01/2013
Alyn Shipton presents a selection of listeners' requests in all styles of jazz, including music from the T G Collective, Eddie Duchin, Bud Freeman and a memory of the late Sir Richard Rodney Bennett.
Last on

Music Played
Artie Shaw

Carioca

Composer: Youmans, Eliscu, Kahn Performers: Artie Shaw cl: Chuck Peterson, John Best, Bernie Privin, t; George Arus, Les Jenkins, Harry Rogers, tb; Les Robinson, Hank Freeman, Tony Pastor, George Auld, reeds; Bib Kitsis, p; Al Avola, g; Sid Weiss, b; George Wettling, d. Boston, 1938.

King of the Clarinet.
Hindsight.
502, CD1 Track 4.

Louis Armstrong

Mutiny In The Nursery (from the film Goin' Places)

Composer: Trad. / Johnny Mercer Performers: Louis Armstrong, t,v; Dick Powell, v; Maxine Sullivan, v; Studio orchestra and chorus, Sept 1939.

Integrale Louis Armstrong Vol 9 1938-41.
Fremeaux.
1359, CD 1 Track 5.

Erskine Hawkins

After Hours

Composer: Parrish Performers: Eskine Hawkins, Sam Lowe, Wilber Bascombe, Marcellus Green, t; Edward Sims, Robert Range, tb; William Johnson, Jimmy Mitchelle, Julian Dash, Heywood Henry, reeds; Avery Parrish, p; William McLemore, g; Lemie Stanfield, b; James Morrison, d. 10 June 1940.

Erskine Hawkins and His Orchestra.
Coral.
LRA10024, S1 T1.

TG Collective

Song For My Father (part 1) / Escape from Girona (Part II)

Composer: Silver / Fekete, Slater Performers: Jamie Fekete, Sam Slater, g; Percy Pursglove, b; Holly Jones, fl; Louis Robinson, vn; Tom Chapman, cajon, perc; 2012

Release the Penguins.
TG Collective.
SLM 1888, Tracks 3 and 4.

Ken McIntyre / Eric Dolphy

Lautir

Composer: McIntyre Performers: Ken McIntyre, as; Eric Dolphy, as, fl; Walter Bishop, Jr, p; Sam Jones, b; Art Taylor, d. 28 June 1960.

Looking Ahead.
Prestige.
OJCCD2522, Track 1.

Dave Brubeck / Gerry Mulligan

Lullaby De Mexico

Composer: Mulligan Performers: Gerry Mulligan, bar; Dave Brubeck p; Jack Six B; Alan Dawson, d. Mexico, May 1968.

Compadres.
CBS.
62296, S2 T2.

Muddy Waters

Got My Mojo Working

Composer: Preston Foster Performers: Muddy Waters, v. g; Jimmy Cotton, hca; Jimmy Rogers, g; Otis Spann, p; Willie Dixon, b; Francis Clay, d. 1956.

Trouble No More – singles 1955-59.
MCA.
CHD9291, Track 7.

Alex Welsh / Bud Freeman

I Got Rhythm

Composer: Gershwin Performers: Bud Freeman, ts; Alex Welsh, c; Roy Williams, tb; John Barnes, cl; Fred Hunt, p; Jim Douglas, g; Ron Matthewson, b; Lennie Hastings, d. 19 June 1966.

Bud Freeman / Alex Welsh.
Lake.
183, Track 1.

Dick Wellstood / Kenny Davern

Once In A While

Composer: Edwards Performers: Kenny Davern, ss; Dick Wellstood, p. 1973.

Dick Wellstood and His All Star Orchestra featuring Kenny Davern.
Chiaroscuro.
129, Track 7.

Eddy Duchin

Between the Devil the Deep Blue Sea

Composer: Koehler, Arlen Performers: Eddie Duchin, p, dir; A Carroll, Charlie Trotta, t; Buddy Morrow, tb; John Geller, Aaron Voloshin, Stanley Worth, Fred Morrow, reeds; Milt Shaw, vn; Horace Diaz, p; Gene Baumgarden, g; Al Kinze, b; Harry Campbell, d; Patricia Norman, v. 21 March 1938.

America's Legendary Piano Star.
RCA.
0940.

Richard Rodney Bennett

Bess, Oh Where Is My Bess?

Composer: Gershwin Performers: Richard Rodney Bennett, p. Feb 1975.

That Certain Feeling / Nobody Else But Me.
EMI.
52346 2, CD 1 Track 5.
Broadcast