Main content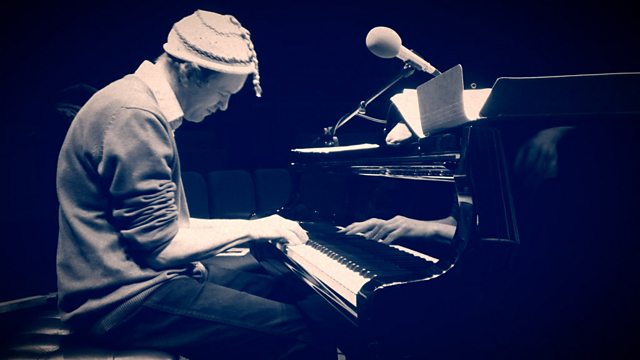 Django Bates' Belovèd Trio
Programme showcasing live jazz recordings. Pianist Django Bates and his Beloved Trio perform in concert in Sheffield. Plus a visit to the home of improvising bassoonist Mick Beck.
Reinterpreting the music of a legend can be a perilous business, but pianist Django Bates gives a masterclass on the subject with his Belovèd Trio, as we continue our celebration of British music this month. Charlie Parker is the band's touchstone, although the band have lately begun to weave originals by Bates into their setlist too, including on their recent second album. The band is a highly attuned unit, with the music evolving through shifting feels, textures and tempos. Bates is on great form at the piano, and Peter Bruun (drums) and Petter Eldh (bass) propel things along with subtlety and a constant sense of exploration. This concert, recorded in Sheffield, was first broadcast earlier in 2013.
Presenter: Jez Nelson
Producers: Peggy Sutton & Chris Elcombe.
Music Played
Add music you love and enjoy it with My Tracks
Django Bates' Belovèd recorded at the Crucible Theatre Studio, Sheffield on 29 November 2012

Untitled

Line-up: Django Bates (piano), Petter Eldh (double bass), Peter Bruun (drums)

Django Bates' MP3 Shuffle

Django Bates' Belovèd recorded at the Crucible Theatre Studio, Sheffield on 29 November 2012

Untitled

Line-up: Django Bates (piano), Petter Eldh (double bass), Peter Bruun (drums)

Mick Beck and Over The Top