Main content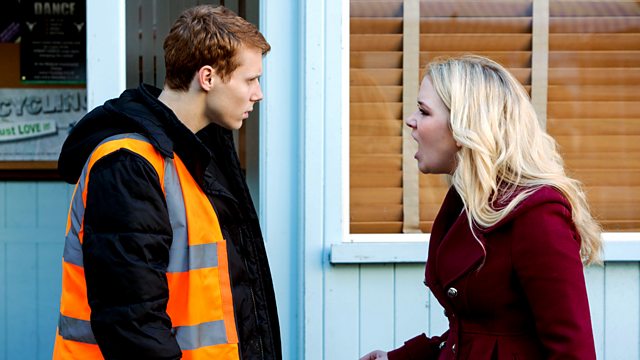 11/01/2013
Zainab is alarmed at the content of Ayesha's letters and sends Masood on a mission. Meanwhile, Denise is determined to make things up with Kim but Ray arrives with a bombshell.
Zainab's shocked when she stumbles upon a racy letter Ayesha's written. She shows it to Masood. It's obvious Ayesha's got a crush and not on Rashid; Zainab suspects Tamwar or Fatboy. Zainab instructs Masood to take Ayesha along on his post round to figure it out. During the morning, Masood discounts Tamwar and Fatboy but alarm bells start ringing when he sees Ayesha and AJ together. When Masood reports his suspicions, Zainab's horrified; what if Ayesha's feelings are reciprocated! They're determined to keep the pair apart. During a family meal, Masood's delighted when Zainab starts playing footsie with him but then realises it's actually Ayesha's foot – her crush is on him.
Although grateful to Ian for letting her stay, Denise heads back to the B&B. Kim takes pleasure in extracting a full apology from her sister. But when Ray tells Kim their relationship's over, Kim blames Denise and she's forced to return to the Beales'.
Liam's training Shirley up at McKlunky's, Phil's surprised to see her there. With Kim demanding rent, Shirley persuades Liam to let her cover one of his shifts, with him paying her cash in advance.
The family blame Abi for the disastrous family meal. Indignant, Abi insists she was only trying to be nice when she invited Dexter. When Dexter visits, Abi slams the door in his face. Cora talks to Dexter at the tube station but an angry Ava arrives and sends him home. On a roll, Abi rebukes Jay in the middle of busy Bridge Street before telling her parents some home truths. Abi's uncharacteristic behaviour does the trick; Jay brings her flowers and the family sit down to eat together with Max assuring Abi he's going to sort things with Kirsty.
At the Vic, Ray agrees to cook Kirsty something outside the usual food service hours.
Clips

Credits
| Role | Contributor |
| --- | --- |
| Masood Ahmed | Nitin Ganatra |
| Ayesha Rana | Shivani Ghai |
| Zainab Khan | Nina Wadia |
| AJ Ahmed | Phaldut Sharma |
| Tamwar Masood | Himesh Patel |
| Tanya Cross | Jo Joyner |
| Max Branning | Jake Wood |
| Lauren Branning | Jacqueline Jossa |
| Abi Branning | Lorna Fitzgerald |
| Jay Mitchell | Jamie Borthwick |
| Cora Cross | Ann Mitchell |
| Ava Hartman | Clare Perkins |
| Dexter Hartman | Khali Best |
| Kim Fox | Tameka Empson |
| Denise Fox | Diane Parish |
| Ray Dixon | Chucky Venn |
| Ian Beale | Adam Woodyatt |
| Shirley Carter | Linda Henry |
| Lola Pearce | Danielle Harold |
| Phil Mitchell | Steve McFadden |
| Arthur 'Fatboy' Chubb | Ricky Norwood |
| Liam Butcher | James Forde |
| Executive Producer | Lorraine Newman |
| Director | Tim Mercier |
| Writer | Peter Mattessi |