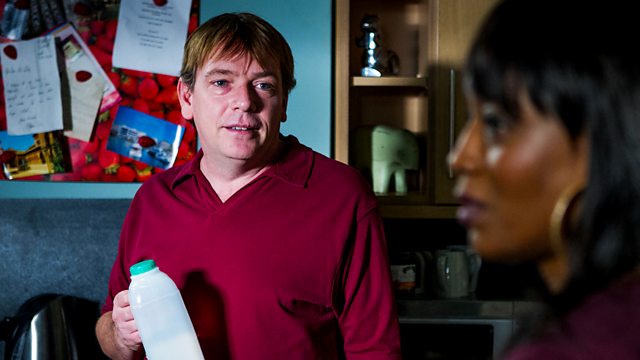 10/01/2013
Kat doesn't turn up for work, Alfie lies to Roxy and goes to check on Kat. Kat explains it was too hard to go into the Vic, insisting Roxy has usurped her. Alfie reassures Kat - he and Roxy don't see her as a charity case. Kat agrees to start again next week. Bianca accidentally lets Alfie's whereabouts slip to Roxy. Roxy's hurt that he lied and chose Kat over her. Jack advises Roxy to give Alfie and Kat space. Later, Alfie tries to smooth things over with flowers, but Kat arrives. Tensions simmer between Roxy and Kat. Kat wants Alfie to read Tommy a bedtime story, reminiscing about their relationship. Alfie sticks up for Roxy. Kat's gutted as Jean escorts her from the pub.
Under pressure from Tanya, Max invites Kirsty to dinner to rationally discuss getting a divorce. Tanya insists the whole family attend. During dinner, Kirsty and Tanya make digs at each other. Abi brings her new friend, Dexter. Tanya's surprised when Ava arrives. Tanya thinks Ava's upset about not being invited; Ava is only there for her son, Dexter.
Bianca defends Jay when he's teased during his community service. Abi bumps into Dexter. Jay's not happy and jealously retorts Abi should take Dexter to the family meal instead. Later, Jay arrives to apologise, but on seeing Dexter in his place, punches him.
Ayesha discusses love triangles with Denise. Denise tells Zainab she's applying for the regional manager vacancy. Later, Zainab reveals she's applying too, and wants Denise to move out - she's a bad influence on Ayesha. Denise is hurt. Ian teases Denise about her stall takings, then offers a shoulder to cry on and his spare room.
Sharon tells Tanya that Phil proposed. Phil's embarrassed that Jack knows of his proposal. Phil hatches a plan with Michael.
Last on
Credits
| Role | Contributor |
| --- | --- |
| Dexter Hartman | Khali Best |
| Tanya Cross | Jo Joyner |
| Ava Hartman | Clare Perkins |
| Cora Cross | Ann Mitchell |
| Max Branning | Jake Wood |
| Abi Branning | Lorna Fitzgerald |
| Jay Mitchell | Jamie Borthwick |
| Joey Branning | David Witts |
| Lauren Branning | Jacqueline Jossa |
| Alfie Moon | Shane Richie |
| Roxy Mitchell | Rita Simons |
| Kat Moon | Jessie Wallace |
| Jean Slater | Gillian Wright |
| Bianca Butcher | Patsy Palmer |
| Jack Branning | Scott Maslen |
| Sharon Rickman | Letitia Dean |
| Phil Mitchell | Steve McFadden |
| Michael Moon | Steve John Shepherd |
| Denise Fox | Diane Parish |
| Zainab Khan | Nina Wadia |
| Ayesha Rana | Shivani Ghai |
| Ian Beale | Adam Woodyatt |
| Executive Producer | Lorraine Newman |
| Director | Tim Mercier |
| Writer | Pete Lawson |