Main content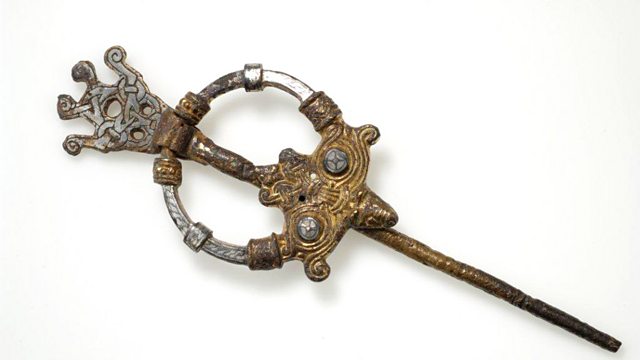 Actor Brian Cox, video artist Tony Oursler, and Vikings in Scotland
Actor Brian Cox, David Bowie's video producer Tony Oursler, a new exhibition about Vikings in Scotland, and Dame Liz Forgan on her final speech as Chair of Arts Council England.
With John Wilson
Dame Liz Forgan is the outgoing Chair of Arts Council England. Last night in her final speech in the role, she said that culture was a deep necessity for human beings, and appealed to politicians not to cut the arts budget. Dame Liz will be in the Front Row studio for a live interview.
Actor Brian Cox reveals what it was like working in his hometown of Dundee for the first time in the television adaptation of the Radio 4 comedy series Bob Servant. And the star of Manhunter explains why, whenever he meets Anthony Hopkins, they never discuss Hannibal Lecter, a role they both played to great acclaim on the big screen.
Vikings have a reputation as marauders and invaders. A new exhibition at the National Museum of Scotland in Edinburgh aims to show who they really were and how they lived a thousand years ago. Author Janice Galloway has been to the exhibition.
David Bowie's new single Where are We Now? caused a sensation when it was released online last Tuesday. The song was accompanied by a video by New York based video artist Tony Oursler, containing his signature image of faces projected onto stuffed dolls. He reflects on the experience of working with the elusive star and how Oursler's wife came to co-star in the video.
Produced by Penny Murphy.
Last on
Chapters
Dame Liz Forgan

An interview with Dame Liz Forgan

Duration: 06:44

Brian Cox

An interview with Brian Cox

Duration: 09:32

Vikings!

A review of the exhibition Vikings!

Duration: 05:21

Tony Oursler

An interview with Tony Oursler

Duration: 06:24

Viking ring-headed pin brooch in bronze, gold & silver

Main picture shows:

Vikings! A ring-headed pin brooch in bronze, gold and silver with a gripping beast motif in Borre style. The head of the pin forms the shape of a bearded demon. Copyright: National Historical Museum, Sweden

 

Broadcast