Main content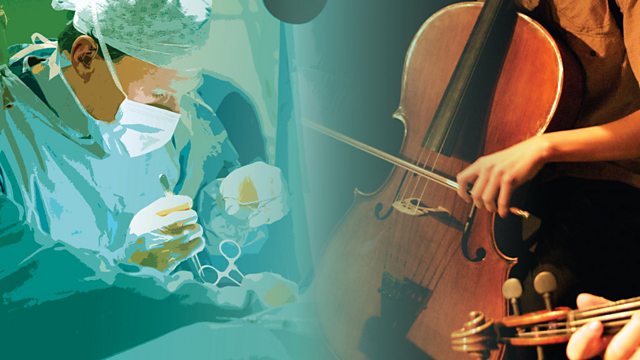 The Scalpel and the Bow
A feature exploring the similarities between musicians and surgeons as they undertake challenging concert and operating theatre simulations.
Musicians and surgeons seem worlds apart. But are they really? This feature explores the similarities between them by using cutting-edge simulation developed by two professors in a unique collaboration between music and surgery. The pressures of the operating theatre and concert hall are recreated so we can share what it feels like as the abstract inner world of the musician and surgeon are explored in tandem.
The challenges they face become apparent as we follow cellists undertaking a simulated concert with their string quartets and at the same time surgeons going through a simulated vascular procedure. A collaboration between Roger Kneebone, Professor of Surgical Education in the Department of Surgery and Cancer at Imperial College London and Aaron Williamon, Professor of Performance Science at the Royal College of Music in London.
The simulated environments have been recorded binaurally from the point of view of each surgeon and cellist so wearing headphones will enhance your experience.
Surgeons and Performers:
Primary surgeons: Dominic P. J. Howard, Alexandra Cope and Yousuf Salmasi.
The patient is played by Norma Jones.
Other members of the surgical team: Dr Aynkaran Dharmarajah (consultant anaesthetist), Kathy Nicholson (scrub nurse), Lilli Cooper, Kat Ford and Howard Tribe (surgical assistants), Alexander Harris (clinical research fellow) and Zinah Sorefan (research technician).
Cellists: Jane Lindsay, George Ross and Linden Ralph.
Other members of the string quartets: Agata Darashkaite, Brigid Coleridge, Christine Anderson, Magdalena Loth-Hill, Louisa Tatlow, Itamar Rashkovsky, Sarah Baldwin and Elijah Spies.
For further photos from the professors and full interviews with the surgeons and cellists taking part, please go to:
http://www1.imperial.ac.uk/medicine/people/r.kneebone/
www.rcm.ac.uk/scalpelandbow
Bioharness readings were taken by Lisa Aufegger.
The sound designer and producer was Lucinda Mason Brown and executive producer Karen Rose.
A Goldhawk Essential production for BBC Radio 3.