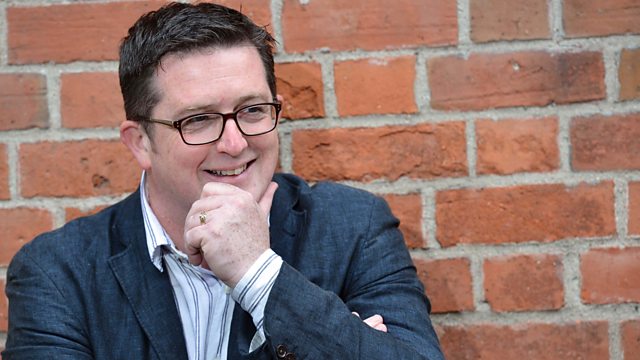 12/01/2013
Join John Toal for big interviews, fascinating people and great craic, plus the best in home-cooked food with recipes from kitchen queen Paula McIntyre. Including News.
Last on
Yucatan Spiced Goat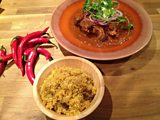 Yucatan Spiced Goat with Butternut Squash Quinoa and Pickled Onions
Yucatan spiced goat
1kg boned goat ( or substitute lamb) shoulder meat, cut into chunks
Zest and juice 1 orange
Zest and juice 1 lime
2 tablespoons red wine vinegar
2 teaspoons cumin seeds
2 teaspoons ground coriander
1 teaspoon turmeric
4 cloves garlic, peeled
1 red chilli, chopped
4 tablespoons rapeseed oil
1 teaspoon sugar
Place the all the ingredients, apart from the goat, into a blender and process to a fine paste.
Rub ¾ of the mix over the goat and marinate in the fridge for 6 hours or overnight. Keep the remaining paste for the quinoa.
250ml beef stock
300ml ale
1 large tin chopped tomatoes
2 onions, peeled and roughly chopped
1 tablespoon cooking oil
Heat the oil in a large pan until smoking.
Add the goat and seal on all sides - if your pan isn't big enough to hold all the goat, do it in two batches.
Transfer to a saucepan or casserole.
Fry the onion in the pan and when soft add the stock, ale and tomatoes. Bring to the boil and simmer for 2-3 hours or until meat is fork tender. You could transfer to oven and bake at 180oc until tender.
Butternut Quinoa
150g peeled and coarsely grated butternut squash
1 onion, peeled and chopped
2 tablespoons rapeseed oil
Yucatan spice paste
150g quinoa
400ml chicken stock
Heat the oil in large saucepan with a lid, until smoking hot.
Add the butternut and onion and cook until golden.
Add the spice paste and cook for 30 seconds.
Add the stock and bring to the boil.
Add the quinoa, lower the heat, place a lid on and simmer for 10 minutes.
Turn off and allow to rest for 10 minutes before serving.
Pickled Red onions
2 red onions, peeled and sliced into thin rings
4 tablespoons cider vinegar
½ teaspoon salt
2 teaspoons castor sugar
Mix together.
Leave for 15 minutes and serve.
Scatter the onions over the spiced goat and drizzle with sour cream and garnish with coriander leaves.
Presenter John Toal Tastes a Hot! Hot! Phaal Chicken Curry
HOT PHAAL CHICKEN
4 CLOVES
4 SMALL CARDAMOM PODS
4 CINNAMON STICKS
2X ONIONS CHOPPED
4X GREEN CHILLIES
2X TABLESPOONS GARLIC AND GINGER PASTE
1X TABLESPOON CRUSHED RED CHILLI
1X TEASPOON TURMERIC POWDER
1X TEASPOON GARAM MASALA
1X TEASPOON CURRY POWDER
4X TABLESPOONS OIL
SALT TO TASTE
2X TABLESPOONS FRESH CORIANDER
METHOD
In a large frying pan, sauté the cloves, cardamom, cinnamon, onions and green chillies in oil until golden brown. Add ginger and garlic paste and continue to sauté. Add crushed chili, garam masala and turmeric powder.
Add chicken, pour water over mixture.
Cover frying pan and let simmer for 15 minutes, until chicken is cooked.
After chicken is well cooked, stir all together, add fresh coriander and serve.
Have some yoghurt/milk/cold water on standby!!!