Main content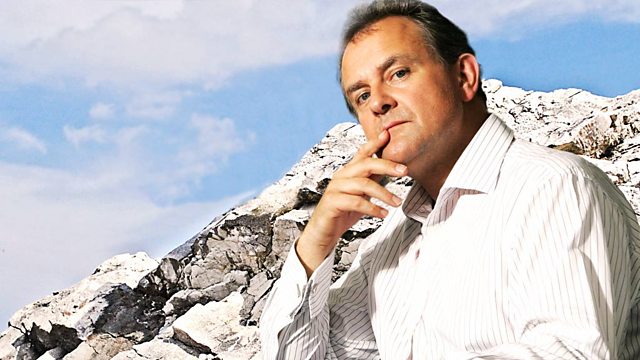 Michael Frayn - Skios
4 Extra Debut. Identity swap and absurdity on a sunlit Greek island. But where is the real Dr Wilfred? Stars Hugh Bonneville, Tom Hollander, Janie Dee, Stacy Keach and Lisa Dillon.
On the Greek island of Skios, guests of a celebrated foundation prepare for the yearly lecture, given by scientific guru Dr Norman Wilfred. He turns out to be surprisingly charismatic. In fact he's not Dr Wilfred but a handsome chancer called Oliver Fox who has allowed himself to be misidentified.
Meanwhile sexy Georgie, awaiting Oliver, is trapped in a remote villa with the real Dr Wilfred; he has lost his luggage and himself.
In 'Skios', skilfully dramatised by Archie Scottney, an international cast delivers us to the outer limits of hilarity. Martin Jarvis says: 'A joy to direct. Much laughter in studio and on location as we recorded Michael Frayn's philosophic farce of pretension, delusion and mislaid identity.'
Dramatised by Archie Scottney
Sound design: Mark Holden and Wes Dewberry
Producer Rosalind Ayres
Director Martin Jarvis
A Jarvis & Ayres Production for BBC Radio 4.
Michael Frayn reflects on his childhood and his career, in conversation with Mark Lawson.
Michael Frayn and longtime collaborator Martin Jarvis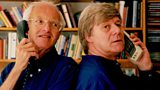 Copyright Jarvis & Ayres
Credits
| Role | Contributor |
| --- | --- |
| Dr Wilfred | Hugh Bonneville |
| Oliver Fox | Tom Hollander |
| Nikki Hook | Lisa Dillon |
| Georgie | Janie Dee |
| Mr Friendly | Stacy Keach |
| Mrs Toppler | Susan Sullivan |
| Mr Chailey | Ian Ogilvy |
| Mrs Chailey | Joanne Whalley |
| Annuka Vos | Amita Dhiri |
| Elli | Agni Scott |
| Spiros | Jon Glover |
| Stavros | Jon Glover |
| Patrick | Matthew Wolf |
| Eric | Matthew Wolf |
| Official | Nigel Anthony |
| Ditmuss | Kerry Shale |
| Mrs Friendly | Jennifer Bassey |
| Suki Brox | Cindy Katz |
| Papadopoulou | Andre Sogliuzzo |
| Reg Bolt | Darren Richardson |
| Mrs Skorbatova | Janine Barris |
| Harold | Alan Shearman |
| Bishop | Alan Shearman |
| Writer | Archie Scottney |
| Director | Martin Jarvis |
| Producer | Rosalind Ayres |