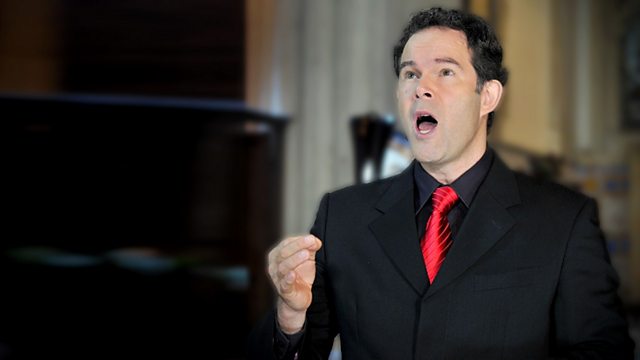 Gerald Finley and Julius Drake - Schubert, Mahler
Live from Wigmore Hall, London
Presented by Petroc Trelawny
Canadian baritone Gerald Finley, accompanied by Julius Drake, contrasts some of Schubert's most dramatic settings with songs by Mahler.
Schubert:
Der Strom D565
Der blinde Knabe D833
Im Frühling D882
Grenzen der Menschheit D716
An Schwager Kronos D369
Der Zwerg D771
Der Schiffer D536
Der Kreuzzug D932
Der Einsame D800
Erlkönig D328
8.15: Interval
Mahler: From Des Knaben Wunderhorn:
Der Schildwache Nachtlied
Nicht wiedersehen!
Des Antonius von Padua Fischpredigt
Wo die schönen Trompeten blasen
Ablösung im Sommer
Zu Straßburg auf der Schanz
Lob des hohen Verstandes
Gerald Finley, baritone
Julius Drake, piano
Canadian baritone Gerald Finley contrasts some of Schubert's most dramatic songs with a selection of the folk poetry settings Mahler made, and which went on to inform much of his later work.
Perennial Schubert favourites Im Fruhling, Der Schiffer and Erlkonig join less wlll-known masterpieces such as his near-symphonic Goethe setting Grenzen der Menschheit. And Mahler was drawn to the collection of German folk poetry 'Youth's Magic Horn' for its naturalness and emotional range, from satirical to bitterly tragic; much of his musical responses to these texts resurfaces in his epic later symphonies.
Last on