Main content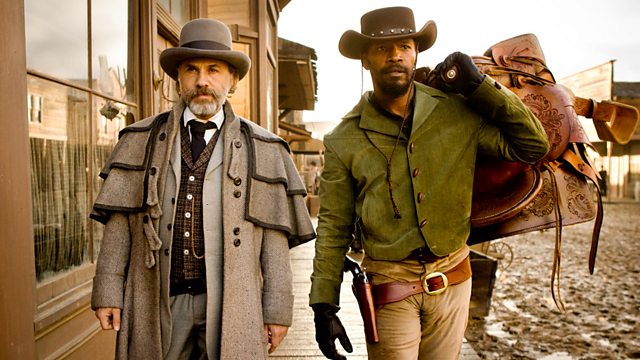 Django Unchained, Gabriele d'Annunzio, English Manners, TS Eliot Prize for Poetry
Philip Dodd discusses Lucy Hughes Hallet's biography The Pike, a new book about Italian poet Gabriele d'Annunzio, whose poetry and oratory helped drive Italy to war in 1919.
Philip Dodd discusses Quentin Tarantino's new movie "Django Unchained", the tale of a former slave who joins a bounty hunter on a rampage through the Deep South. A rare Hollywood film to grapple with the violence of slavery in the United States, its violence and language has caused significant controversy, with the filmmaker Spike Lee calling for its boycott. With cultural commentator Kit Davis and film critic Tim Robey.
We'll look at the life and times of the Italian writer, adventurer and demagogue Gabriele D'Annunzio. He began his career in the 1880s writing about love and youth, but died on the eve of the Second World War as an elder statesman of Italian Fascism. Philip is joined by Lucy Hughes-Hallett, author of a new biography of D'Annunzio.
Philip discusses the complex code of English manners and etiquette with Henry Hitchings whose new book, Sorry, tells their history, and we'll get the view from outside with the Chinese writer and film-maker Xiaolu Guo.
And we'll be talking to this year's winner of one of our most prestigious literary awards, the T.S.Eliot Prize for poetry.
Chapters
Django Unchained

Review of Quentin Tarantino's new film Django Unchained

Duration: 11:40

Gabriele D'Annunzio

Interview with author Lucy Hughes-Hallett about her biography of Gabriele D'Annunzio.

Duration: 09:56

Manners

A discussion on English manners and social etiquette.

Duration: 13:04

T S Eliot Prize

An interview with Sharon Olds, the winner of the 2012 T S Eliot Prize for poetry.

Duration: 09:30

Henry Hitchings

Sorry!: The English and Their Manners, by Henry Hitchings is published on 17th January 2013 by John Murray.

Django Unchained

Django Unchained is released in UK cinemas on 18th January 2013, certificate 18.

The Pike

The Pike: Gabriele d'Annunzio, Poet, Seducer and Preacher of War, by Lucy Hughes-Hallett is published on 17th January 2013 by Fourth Estate.

2012 T S Eliot Prize

The winner of the 2012 T S Eliot Prize will be announced on the evening of Monday 14th January by the Poetry Book Society.