Main content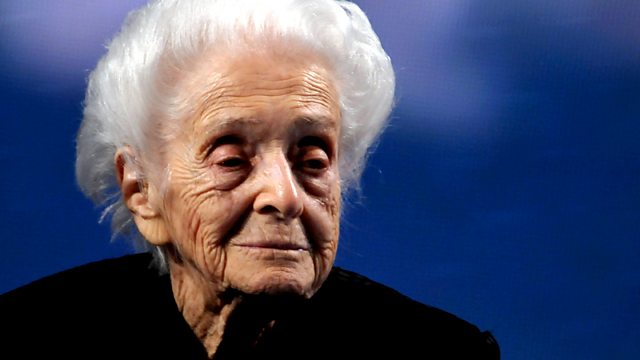 A Nobel-winning scientist, a French mountaineer, a sociologist, a former BBC DG and the voice of Listen With Mother
Matthew Bannister on BBC Director General Alasdair Milne, neuro-embryologist Rita Levi-Montalcini, mountaineer Maurice Herzog, sociologist Stanley Cohen and actress Daphne Oxenford.
Matthew Bannister on:
The former BBC Director General Alasdair Milne. A talented programme maker, he was involved in a series of rows with the Thatcher government and forced to resign by the Board of Governors.
The Italian neuro embryologist Rita Levi-Montalcini. She won the Nobel Prize for her work on cell growth.
The French mountaineer Maurice Herzog who was the first man to climb Annapurna, losing all his fingers and toes in the process.
The sociologist Stanley Cohen, who coined the term "moral panic" and devoted his life to human rights. His collaborator Professor Laurie Taylor pays tribute.
And the actress Daphne Oxenford, loved by a generation of children for reading stories on Listen with Mother.
Last on
Alasdair Milne
Last Word spoke to his son Seumas Milne, to the official BBC Historian Prof Jean Seaton and to former BBC Director General Sir Michael Checkland. Born 8 October 1930; died 8 January 2013 aged 82.
Prof Rita Levi-Montalcini
Matthew spoke to her colleague Prof Antonino Cattaneo. Born 22 April 1909; died 30 December 2012 aged 103.
Maurice Herzog
Matthew spoke to the climbing writer Ed Douglas and to mountaineer Sir Chris Bonnington. Born 15 January 1919; died 14 December 2012 aged 93.
Prof Stanley Cohen
Matthew spoke to Prof Laurie Taylor who wrote books with Stanley. Born 1942; died 7th January 2013 aged 70.
Daphne Oxenford
Matthew spoke to her daughter Kate Bradley, to Biddy Baxter who worked with Daphne and to Michael Rosen who remembers growing up listening to her on the radio. Born 31 October 1919; died 21 December 2012 aged 93.
Broadcasts