Main content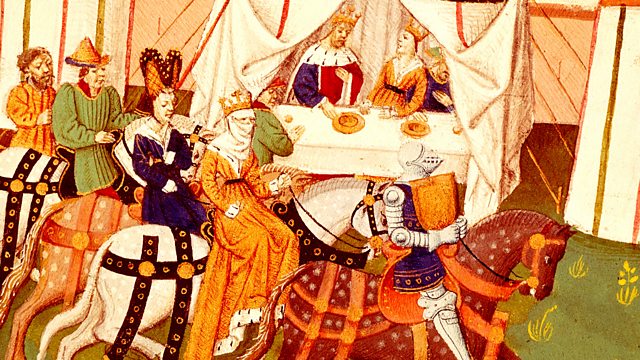 Le Morte d'Arthur
Melvyn Bragg and his guests discuss Le Morte d'Arthur, Sir Thomas Malory's epic medieval tale of King Arthur and his knights of the Round Table.
Melvyn Bragg and his guests discuss Thomas Malory's "Le Morte Darthur", the epic tale of King Arthur and his knights of the Round Table. Sir Thomas Malory was a knight from Warwickshire, a respectable country gentleman and MP in the 1440s who later turned to a life of crime and spent various spells in prison. It was during Malory's final incarceration that he wrote "Le Morte Darthur", an epic work which was based primarily on French, but also some English, sources.
Malory died shortly after his release in 1470 and it was to be another fifteen years before "Le Morte Darthur" was published by William Caxton, to immediate popular acclaim. Although the book fell from favour in the seventeenth century, it was revived again in Victorian times and became an inspiration for the Pre-Raphaelite movement who were entranced by the chivalric and romantic world that Malory portrayed.
The Arthurian legend is one of the most enduring and popular in western literature and its characters - Sir Lancelot, Guinevere, Merlin and King Arthur himself, are as well-known today as they were then; and the book's themes - chivalry, betrayal, love and honour - remain as compelling.
With:
Helen Cooper
Professor of Medieval and Renaissance English at the University of Cambridge
Helen Fulton
Professor of Medieval Literature and Head of Department of English and Related Literature at the University of York
Laura Ashe
CUF Lecturer and Tutorial Fellow at Worcester College at the University of Oxford
Producer: Natalia Fernandez.
Last on
LINKS AND FURTHER READING
Professor Helen Cooper at Cambridge University
Professor Helen Fulton at York University
Dr Laura Ashe at Oxford University
Stanzaic Morte Arthure And Alliterative Morte Arthure: Introduction
Morte D'Arthur to read online – Project Gutenburg
Morte D'Arthur at the British Library
READING LIST:
Elizabeth Archibald (ed.), 'The Cambridge Companion to the Arthurian Legend' (Cambridge University Press, 2009)
Elizabeth Archibald and A. S. G. Edwards (eds), 'A Companion to Malory' (Boydell and Brewer, 1996)
Richard Barber, 'Legends of Arthur' (Boydell Press, 2001)

W. R. J. Barron, 'The Arthur of the English: the Arthurian legend in medieval English life and literature' (Cardiff, 2001)
Catherine Batt, 'Malory's Morte Darthur: Remaking Arthurian Traditions' (Palgrave, 2001)
Larry D. Benson, 'Malory's Morte Darthur' (Harvard University Press, 1976)
Helen Cooper (ed.), 'Malory, Le Morte Darthur' (Oxford University Press, 2008)
P. J. C. Field, 'The Life and Times of Sir Thomas Malory' (Boydell and Brewer, 1999)
Laurie Finke and Martin Shichtman (eds), 'King Arthur and the Myth of History' (University Press of Florida, 2004)
Helen Fulton (ed.), 'A Companion to Arthurian Literature'  (Wiley Blackwell, 2009)
Christina Hardyment, 'Malory: The Knight Who Became King Arthur's Chronicler' (Harper Perennial, 2007)
E.D. Kennedy, 'King Arthur: A Casebook' (Routledge, 2002)
Alan Lupack, 'Oxford Guide to Arthurian Literature and Legend' (Oxford University Press, 2007)
Sir Thomas Malory (ed. Janet Cowen), 'Le Morte D'Arthur' (Penguin Classics, 1970) 
Derek Pearsall, 'Arthurian Romance: A Short Introduction' (Blackwell, 2003)
Martin Shichtman and James Carley (eds), 'Culture and the King: The Social Implications of the Arthurian Legend' (State University of New York Press, 1994)
Eugene Vinaver (ed.), 'Malory: Works' (Oxford University Press, 1977)
Broadcasts

Featured in...
Browse the Medieval era within the In Our Time archive.

Popular culture, poetry, music and visual arts and the roles they play in our society.