Main content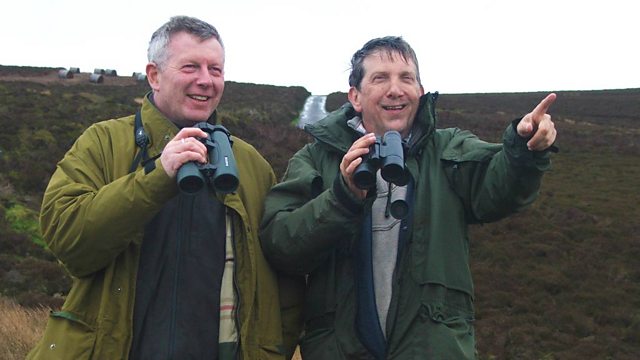 Brett Westwood and Stephen Moss present a guide to the birds likely to be seen and heard on Britain's heather moors.
Which bird sounds like a coffee percolator and moves like a clockwork mouse? Well, the answer can be found in the first of a new series of guides to our commonest upland birds. Brett Westwood joins keen bird watcher Stephen Moss on the magnificent rolling hills of the Long Mynd in Shropshire where the air is filled with the 'go-back-back-back' calls of Red Grouse. With the help of recordings by wildlife sound recordist Chris Watson, Brett and Stephen offer a practical and entertaining guide to the birds which you're most likely to see and hear on heather moors in Upland Britain; birds like the Red Grouse, Black Grouse, Merlin and Short-eared Owl; an owl which you're likely to see hunting in daylight and whose eyes "look like fog lamps" exclaims Brett, "they glare at you bright, yellow and black!".
This is the first of five programmes to help you identify many of the birds seen and heard in Upland Britain; on heather moors, upland grasslands, cliffs and crags, bogs and mires and the high mountain tops. Not only is there advice on how to recognise the birds from their appearance, but also how to identify them from their calls and songs.
This series complements five previous series; A Guide to Garden Birds, A Guide Woodland Birds, A Guide to Water Birds, A Guide to Coastal Birds and A Guide to Farmland Birds and is aimed at both the complete novice as well as those who are eager to learn more about our upland visitors and residents.
PRODUCER: Sarah Blunt.
Last on
The Long Mynd, Shropshire.
Broadcast