Main content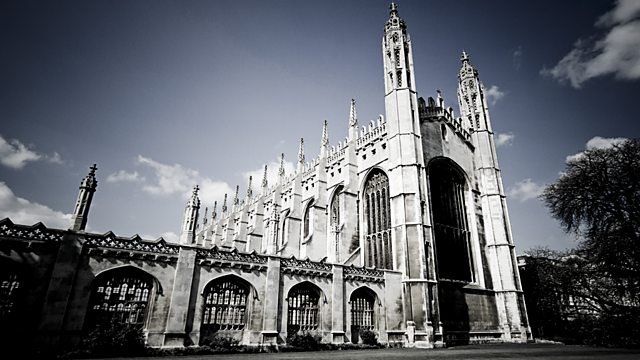 25/12/2012
From the chapel of King's College, Cambridge, and based around nine Bible readings interspersed with Christmas hymns and carols sung by the chapel choir.
Recorded yesterday in the candlelit chapel of King's College, Cambridge, A Festival of Nine Lessons and Carols is based around nine Bible readings which tell the story of the loving purposes of God. They are interspersed with carols old and new, sung by the world famous chapel choir who also lead the congregation in traditional Christmas hymns.
Once in Royal David's City (descant Ledger)
Bidding Prayer read by the Dean
Ding, dong, ding (arr. Woodward)
First lesson: Genesis 3, vv 8-19 read by a Chorister
Herefordshire Carol (arr Vaughan Williams)
Adam lay ybounden (Christopher Brown)
Second lesson: Genesis 22 vv 15-18 read by a Choral Scholar
Good Christian men (arr Ledger)
The holly and the ivy (arr Walford Davies)
Third lesson: Isaiah 9 vv 2, 6-7 read by a Member of College Staff
Nowell sing we now all and some (medieval)
Unto us is born a Son (arr Willcocks)
Fourth lesson: Isaiah 11 vv 1-3a, 4a, 6-9 read by a Representative of the City of Cambridge
A spotless rose (Ledger)
Ring out, wild bells (Carl Vine - first performance, commissioned by King's College)
Fifth lesson: Luke 1 vv 26-35, 38 read by the Master Over the Choristers
Gabriel's message (arr Pettman)
The Cherry Tree Carol (arr Cleobury)
Sixth lesson: Luke 2 vv 1, 3-7 read by the Chaplain
Away in a manger (arr Willcocks)
All bells in paradise (Rutter)
Seventh lesson: Luke 2 vv 8-16 read by the Director of Music
In the bleak midwinter (Darke)
While shepherds watched (descant Cleobury)
Eighth lesson: Matthew 2 vv 1-12 read by the Vice-Provost
Three Kings from Persian Lands (Cornelius arr Atkins)
Sir Christèmas (William Mathias)
Ninth lesson: John 1 vv 1-14 read by the Provost
O come, all ye faithful (arr Willcocks)
Collect and Blessing
Hark, the Herald Angels Sing (descant Ledger)
Organ voluntaries:
In dulci jubilo BWV 729 (Bach)
Toccata Op 5 (Duruflé )
Director of Music: Stephen Cleobury
Organ Scholar: Parker Ramsay
Producer: Simon Vivian.