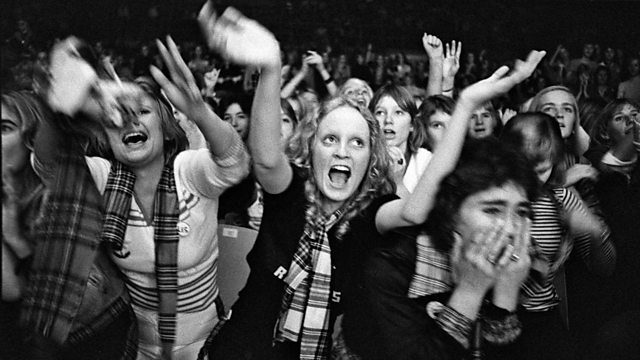 Bye-Bye Baby - Pop Heartthrobs
The current hysteria over Harry Styles and One Direction is clearly nothing new. Young girls (and even grown women) have been screaming and swooning over groups of good-looking young men forever. It's said that when silent movie star, Rudolf Valentino died in 1926, thousands of women fell into a state of despair or hysteria. And, ever since the teenager was created in the Fifties, there have been teen idols. Beatlemania caused girls to scream themselves silly, swoon or just fall to their knees in a faint.
Prior to this there was Britain's first teen-idol, Tommy Steele: a man who was cutting "The Tommy Steele Story" biopic movie just four weeks after his first chart success, such was the demand for product. Following hot on his heels was Britain's answer to Elvis: Cliff Richard. Both Tommy and Cliff were toothsome and talented, but clearly non-threatening. Things would later turn a little darker when The Rolling Stones reared their ugly heads, tabloid headlines screaming: 'Would you let your daughter marry a Rolling Stone?'.
Post-Beatles there was a slew of manufactured musical mannequins of the likes of The Sweet, Mud and this episode's headliners, The Bay City Rollers - a perfect embodiment of the teenage heartthrob, with their simple, catchy hits and a contrived image based around tartan and trousers that were clearly too short. Pop idols like David Essex soon crossed over from music pinups to movie pinups. Punk briefly broke the heartthrob's stranglehold on the charts (though for many a confused girl or boy, Sid Vicious was something of an anti-pinup). But the likes of Wham! returned golden, girl-friendly guys to the top of the charts, and so began another run of boy bands not seen since the heyday of glam in the '70s. So Andrew Ridgeley, Adam Ant, Robbie Williams, Simon Le Bon and Nik Kershaw were on more walls than Dulux and were the musical manifestation of a million schoolgirl crushes.
The pulling power of boy bands (no pun intended) can be amply illustrated by Take That's recent, second spell of success. Their massive sell-out stadium tours were pretty much packed with women who'd been teenage followers of the band during their '90s heyday. Both bands and fans had grown up, but were still locked in a mutually beneficial, nostalgia-nursing relationship. And for one night these women could forget about work, family and the inevitable march of time and get back in touch with their inner-teen. Nostalgia is a powerful urge, and music is the quickest means of getting you there.
What's the daftest thing you'd done or worn to be like your musical heroes? The People's Songs wants to hear from you.
Last on