Main content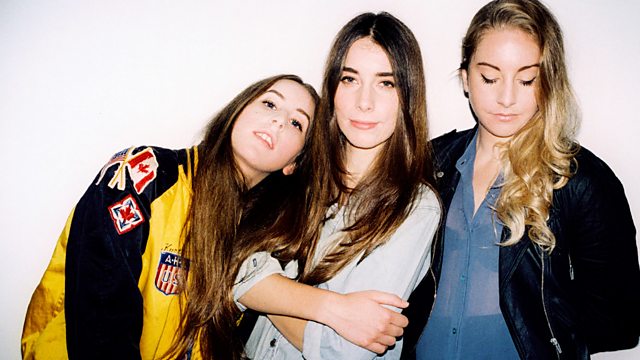 Haim, Mr Selfridge, The Imposter, theatre ticket pricing
John Wilson meets Haim, the band of sisters who topped the BBC Sound of 2013 list; The Imposter and TV drama Mr Selfridge reviewed, and how to get theatre ticket pricing right.
Haim - the Los Angeles guitar trio of sisters - were announced this morning as the winners of the BBC Sound of 2013. Over 200 influential music experts, DJs, bloggers and music critics created a shortlist of 15 artists as their favourite new acts for the year ahead, and chose Haim as the winners, following in the footsteps of Adele, Ellie Goulding and Michael Kiwanuka. On the line from Los Angeles Haim give their response to the news.
Mr Selfridge is ITV's new Sunday night drama - telling the story of the man behind the Oxford Street store and how it began in 1909. It stars the American actor Jeremy Piven in the title role and is written by Andrew Davies. The BBC's Economics Editor, Stephanie Flanders, reviews it.
The Imposter was one of the best reviewed films of last year and the most popular documentary in British cinemas. The remarkable story of a Frenchman who assumes the identity of a missing American teenager is released on DVD next week and is reviewed by Sandra Hebron.
Ten years after the National Theatre introduced their Travelex sponsored £10 ticket scheme, theatres are experimenting with ticketing initiatives to attract new audiences and ensure the maximum return in austere times. Dominic Hill from the Citizens Theatre in Glasgow, Trina Jones from the Rep Theatre in Birmingham and Josie Rourke from The Donmar Warehouse in London discuss the importance of getting the ticket price right.
Producer Stephen Hughes.
Chapters
Haim

Interview with the winners of the BBC Sound of 2013, Haim.

Duration: 13:09

The Imposter

Sandra Hebron reviews documentary film The Imposter.

Duration: 04:59

Theatre Tickets

The ticketing initiatives theatres are experimenting with to attract new audiences.

Duration: 09:24

Mr Selfridge

Stephanie Flanders reviews ITV drama Mr Selfridge.

Duration: 05:25