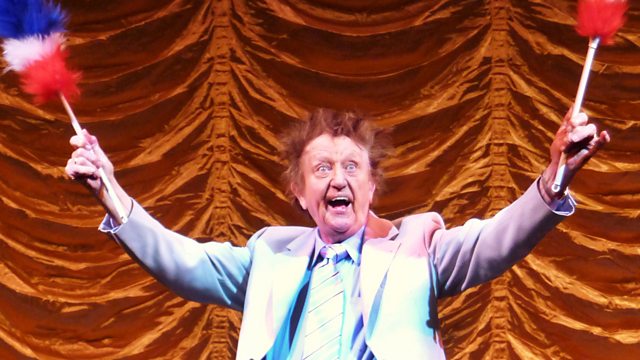 How Tickled I've Been - Remembering Sir Ken Dodd
Liza Tarbuck celebrates the late, great British comedian Ken Dodd. Contributors include Russ Abbot, "Diddy" David Hamilton, Roy Hudd, Jimmy Tarbuck and Russ Abbot.
Following the sad news of his death this week, another chance to hear a 2013 tribute to Ken Dodd. Liza Tarbuck celebrates the British comedian Ken Dodd who, for almost 65 years tickled our chuckle muscles with Tickling Sticks, tales of the Diddy People, Jam Butty mines, Moggies and Knotty Ash.
With his rapid delivery of around seven jokes per minute, Ken was one of the fastest gag-tellers on the planet. He's was also a successful recording artist, with millions of record sales to his credit. His recording of Tears (1965) sold two million copies and is the third biggest-selling single of the 1960s - quite an achievement in the era of the Beatles and The Stones.
In this special programme Ken talked about his childhood in Knotty Ash, his early career, great success, his joy of performing and why he would never retire. We also discover Ken's serious acting career, the origins of the Diddy People and the Tickling Stick.
A host of friends pay tribute including Russ Abbot, Michael Billington, John Fisher, "Diddy" David Hamilton, Roy Hudd, The Right Reverend James Jones (Bishop of Liverpool), Jim Moir, Kay O'Dwyer, Claire Sweeney and Jimmy Tarbuck.