Main content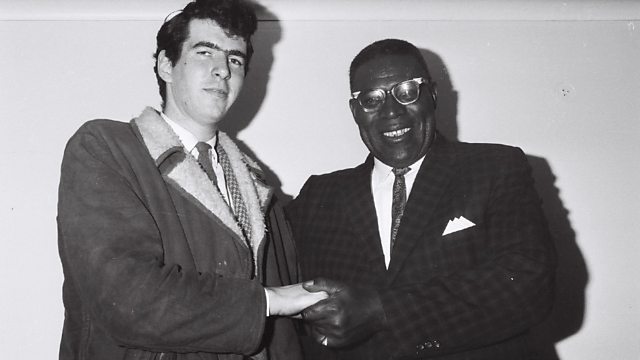 Roger, the Eagle Has Landed
Mark Radcliffe recalls the boom and bust life of DJ Roger Eagle, who pioneered northern soul, ran the infamous punk club Eric's, in Liverpool, and nurtured musicians.
DJ and club promoter Roger Eagle was a mentor to many young music fans in Liverpool and Manchester from the early-1960s until his death aged 56, in 1999. In this programme, Mark Radcliffe pieces together his unconventional life. Roger Eagle wasn't local - he came from Oxford and was related to George Bernard Shaw - but his love of blues and jazz brought him to Manchester, on his motorbike, in the late 1950s, where, as one of the first DJ's at the Twisted Wheel Club, he was responsible for booking, befriending and promoting acts like Howling Wolf, Bo Diddley, and Sonny Boy Williamson, on their earliest visits to the UK. Roger's musical knowledge and enthusiasm gained the club enough notoriety to coin the term "Northern Soul" as a description of what was going on there, both musically and as a subculture, by the late 1960s.
But, always wary of musical conservatism, Roger rapidly moved on, to Liverpool, where he co-founded another club, Erics. Here, in the mid 1970s, he helped to develop the talents of new bands like Echo & The Bunnymen, the Teardrop Explodes and Frankie Goes To Hollywood, as well as championing dub reggae and what became known as world music. Roger promoted everything from Louisiana zydeco music to the Clash, and Eric's had a direct influence on the development in Manchester of the Factory club and record label.
Returning to Manchester in the early 1980s Roger discovered a scruffy post-punk band, the Frantic Elevators, whose vocalist, Mick Hucknall, was converted by Roger, and his record collection, into a soul-styled solo singer, subsequently a major pop star. Here also, Roger co-founded yet another influential club, the International, staging early gigs by REM and the Stone Roses. Anyone interested in particular musical styles could get a free informal lecture from Roger, and probably a free mix tape or record as well. These included producer of this programme, Bob Dickinson, who got to know Roger (and wrote his obituary for the Guardian newspaper). Interviews with many other friends of Roger including artist and KLF member Bill Drummond, musicians Jayne Casey, Andy McCluskey of OMD, and C.P. Lee, underground magazine editor Mike Don, manager/ promoter Elliott Rashman, and Bill Sykes,the author of "Sit Down! Listen To This!", a new biography of Roger, who will show what an unsung hero Roger Eagle was and what a fascinating figure he remains.
Last on
Broadcast