Main content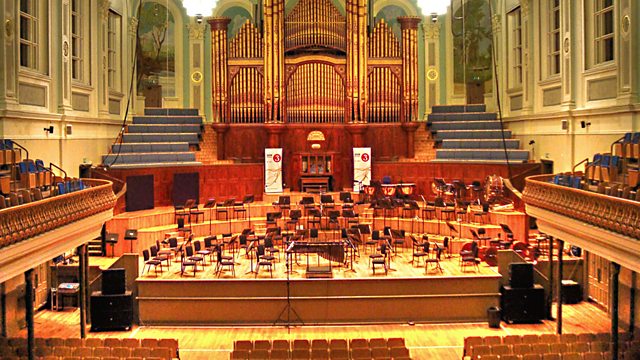 Prom 14: Kronos Quartet
Andrew McGregor presents Kronos Quartet's Proms debut, from 2012. Music includes Syrian folk-pop, Sofia Gubaidulina's Fourth String Quartet and a quartet based on Amazing Grace.
Another chance to hear one of the highlights of the 2012 Proms season.
Presented by Andrew McGregor
The Kronos Quartet makes its Proms debut with a typically eclectic Late Night programme which ranges from from Syrian folk-pop via Sofia Gubaidulina's Fourth Quartet to one based on 'Amazing Grace.'
For almost 40 years, the Kronos Quartet has been reinventing the string quartet, regularly turning it into a multimedia experience. The group's first Proms appearance begins with high-octance Syrian folk-pop and ends with a Kronos commission blending classical strings with ethnic Balkan instruments, shouts, foot-stomping, bells and electronic overdubs.
In between, varied fare from the group's eclectic repertoire plus a BBC commission inspired by the work of Delia Derbyshire of the BBC Radiophonic Workshop (responsible for the realisation of Ron Grainer's Doctor Who theme). Listen out, too, for the otherworldly Kronos arrangement of a Scandinavian folk lament.
Omar Souleyman, arr. Jacob Garchik: I'll Prevent the Hunters from Hunting You (La sidounak sayyada) (UK premiere)
Sofia Gubaidulina: String Quartet No. 4
Ben Johnston: String Quartet No. 4 'Amazing Grace'
Nicole Lizée: The Golden Age of the Radiophonic Workshop (Fibre-Optic Flowers) (BBC commission: world premiere)
Trad., transcr. Ljova, arr. Kronos Quartet: Tusen tankar (A Thousand Thoughts)
Aleksandra Vrebalov: ... hold me, neighbour, in this storm ...
Kronos Quartet.