Main content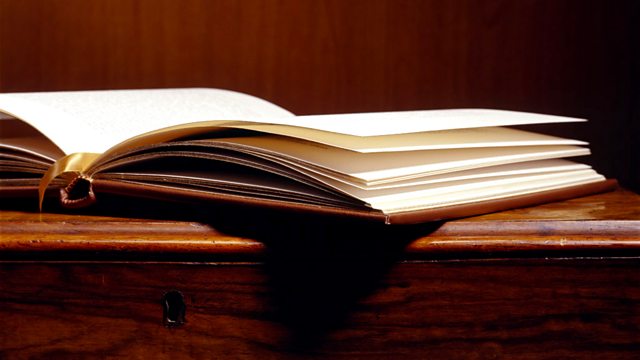 With Great Pleasure at Christmas
Fi Glover presents a festive selection of her favourite pieces of writing. With Rosie Cavaliero, Kate Fox, Mark Meadows and the Exultate Singers.
A festive edition of the programme which invites a celebrity to raid their memories in search of the pieces of writing and music which best sum up their lives. Fi Glover, one of the BBC's most cherished radio presenters, steps up with a wonderfully varied selection of readings, from a nursery rhyme to Aristotle by way of Alan Bennett and John Mortimer. She even includes a fully-practical recipe for a very special dessert.
The readers are Rosie Cavaliero and Mark Meadows, who are joined by poet Kate Fox, and the Exultate Singers provide the finishing celebratory touch.
Producer Christine Hall.
Featured in this programme:
Carol: Angels from the Realms of Glory, sung by the Exultate Singers
Poem: Christmas Presence by Kate Fox
Extract from I Feel Bad About My Neck and Other Thoughts About Being a Woman, by Nora Ephron Published by Black Swan
Extracts from The Christmas Letters by Simon Hoggart Published by Atlantic Books
Extract from Where There's a Will by John Mortimer Published by Penguin
Poem: Contemplating Growing a Beard? by Murray Lachlan Young From All Said and Done Published by TAP Publishing
Recipe: Le Mont Blanc by Simon Hopkinson From Week In, Week Out Published by Quadrille Publishing
Christmas in NW1 by Alan Bennett From Writing Home Published by Faber
Extract from The Trojan Women by Euripides, Translated by James Morwood Published by Oxford World's Classics (Repeat programme only)
Extracts from The Middle Class ABC by Fi Cotter Craig & Zebedee Helm Published by John Murray
Extract from Any Human Heart by William Boyd Published by Penguin
Extract from Travels with My Radio : I'm An Oil Tanker by Fi Glover Published by Ebury Press
Carol: It Came Upon the Midnight Clear, sung by the Exultate Singers
Simon Hopkinson's recipe for Le Mont Blanc
Ingredients: 
For the meringues:
4 egg whites
pinch of salt
225g caster sugar
a little softened butter
plain flour
for the chestnut puree:
275g cooked chestnuts, pureed until
perfectly smooth
1 x 250g tin sweetened chestnut paste
(crème de marrons)
1 tbsp icing sugar
1 dsp natural vanilla extract
for the whipped cream
300 ml double cream (very cold)
1 tbsp caster sugar
Preheat the oven to 140 ˚ C/275 ˚ F/gas mark 1
Using a scrupulously clean mixing bowl, whip the egg whites with the salt until soft but able to hold a peak.  Beat in half the sugar, a tablespoon at a time, until glossy and stiff.   Now fold in the rest of the sugar, using a large spatula with authoritative scoops rather than mimsy movements; the air must be contained, but the sugar does also need to be thoroughly mixed in.
Lightly grease a flat baking tray with the butter and sift over a spoonful of flour.  Shake around a bit to disperse the flour in an even coating and then tap off the excess (the kitchen sink is the most contained area and affords the least mess).
Note: I have always found this coating to be the most effective non-stick method, however arcane you might think it to be.
Spoon out the meringue mixture and shape into individual sized 'nests' (a worrying description, I know, but for once apt, here) with a definite, deep indent in each of their middles.  Bake in the oven for about 1 ¼ - 1 ½  hours; the point at which the meringue reaches a pale coffee hue is how I like it.  Leave to cool for a few minutes on the baking tray before placing on a wire rack to cool.
Fully process all the ingredients for the chestnut puree together until super smooth and set aside.  Whip the cream and sugar until thick.  To assemble, place each meringue nest on a plate, fill it with  whipped cream to a generous, dome-like height and squiddle (a fair description, here, I think) just the correct amount of chestnut puree through the metal press over each serving, masking the cream – but not the meringue nest – completely.  Chill for at least 30 minutes – and 60 minutes maximum – before serving.