Main content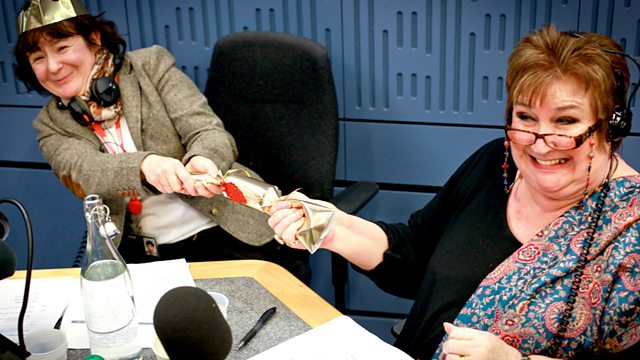 Miranda Hart, Allegra McEvedy
A Christmas Day celebration presented by Jenni Murray and Jane Garvey. Miranda Hart discusses her new series, plus chefs' tips from Mary Berry, Monica Galetti and Allegra McEvedy.
Jenni Murray and Jane Garvey host an extended edition of Woman's Hour. Comedian Miranda Hart discusses her new series; Kirstie Allsopp, Anna Friel and Jessica Ennis share their Xmas plans and we hear about some unusual ways of spending the holiday, there are tips from the chefs Mary Berry, Monica Galetti and Allegra McEvedy and Susy Atkins mixes the perfect pre-lunch aperitif. Plus music from the Ruby Dolls and some special presents.
Producer Louise Corley.
Allegra McEvedy on Canapes and Gravy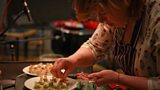 Allegra McEvedy is an chef, writer and broadcaster.  She joins Jane, Jenni and their  guests with her take on canapés through the last five decades, and to share her Top Tips for gravy. Canapes:
1960s – Cream Cheese and Avocado Mousse on Melba Toast + julienne of red pepper
1970s – Prawn Cocktail vol-au-vents (with a green olive on top)
1980s – Small ball of Mozzarella, roasted Cherry Tomato on a Basil leaf
1990s –  Seared beef fillet with beetroot salsa
2000s – Sashimi with little Radish sprouts, tiny dice of cucumber and dipping sauce of ginger.
Gravy Recipe:
Ingredients
some veggie off cuts, like carrot tops, celery ends, bit of onion, some garlic (neither need to be peeled)
giblets if possible
a roasting tray that's just had a joint roasted in it
some flour (2-4 tbsp, depending on how thick you like your gravy)
some winter herbs, like rosemary, thyme…parsley stalks good too.
couple of bay leaves
a big glass (like 200ml) wine (red or white depending on joint and personal preference)
500ml-1 litre stock, type depends on joint (use chicken for turkey)
splash of sherry vinegar
touch of honey
Salt & Pepper
Method
Take the joint out of the roasting tray and set it aside to rest on a pre-warmed serving plate covered in foil with a tea-towel draped over it.
Pour all the fat and any pan juices out into a small bowl on the side and put the roasting tray on the hob across two burners on a medium heat.
Tip in the veggies, plus any giblets you have and pour in just enough of the fat to coat them.
Keep stirring and frying them for a good 5 minutes, chucking in the herbs along the way, until everything is properly hot, then sprinkle on the flour and give it all a good roll and coat - the flour will absorb the fat, so you may need to add in a splash more of the grease you set aside to prevent it catching and burning.
Now don't leave the pan at all, just stay there stirring for a minute or two, again adding in a teaspoon more fat if it's all beginning to look at bit dry, then pour in the wine. Sizzle sizzle.
Let the wine reduce by two thirds, which won't take long at all, then follow in with the stock.
Bring up to a simmer and let it bubble away for about 5-7minutes until it gets to a consistency you like.  During this time separate any pan juices that resulted from the initial roast from the fat and pour them in too: spoon any remaining fat into a jam jar for your next lot of roasties.
Strain the stock through a colander into a bowl, and now taste for seasoning - I usually finish mine with a tiny splash of sherry vinegar, half a teaspoon of honey and a good look at seasoning: both salt and pepper.
TOP TIP:
Serve in a teapot with a tea cosy to keep it warm – and display your lovely cosy!
The Ruby Dolls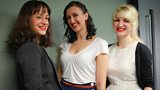 The Ruby Dolls
join Jenni, Jane and guests to perform a medley from their cabaret show Rubies in the Attic and seasonal songs.
In the wardrobe of the Turkey Farmers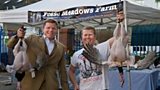 Every so often on Woman's Hour we talk to people about what's in their wardrobe and what that says about their personality. In festive spirit, Henrietta Harrison to meet Nick and Jacob. They gave up their jobs as a property developer and clothes designer to run a farm – Fosse Meadows in Leicestershire, selling poultry, including free range turkeys
Women scientists aboard the James Cook in the Southern Ocean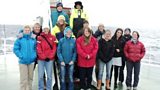 Jane talks to four women who are part of a science team working aboard a research ship exploring the ocean depths of the Antarctic - Clare Woulds, Leigh Marsh, Cathy Cole and the ship's doctor, Mollie McEwan.
Miranda Hart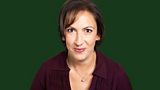 Miranda Hart joins Jenni to discuss her new television series Miranda, which starts on BBC One on Boxing Day, and to describe how she spends Christmas and to share details of a memorable Christmas present.
Paddy O'Connell and Anita Anand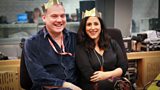 Paddy O'Connell, presenter of Broadcasting House, and Anita Anand, presenter of Any Answers, join Jenni and Jane to discuss how they spend Christmas and their most memorable presents.
Susy Atkins on Christmas drinks
Susy Atkins is an award-winning wine writer and broadcaster. She writes the weekly wine column for the Sunday Telegraph magazine. She joins Jane, Jenni and guests in the studio with suggestions for Christmas pre-dinner drinks, and gives her Top Tips for mulled wine.
If you have some dry cava or sparkling wine you can use that as your base and jazz it up into something special by adding any liqueur you have in the cupboard. You can add elderflower cordial, sloe gin, any orange liqueur such as Cointreau. Susy added damson vodka to hers.
Festive non-alcoholic sparkling ginger
Susy adds a big dollop (big tablespoon) of the syrup from a jar of stem ginger, a big dollop of elderflower cordial, a good chunk of lime, top up with chilled sparkling water and few cubes of ice. (You can also use root ginger if you don't have the syrup.)
Top Tips for Mulled Wine:
-Choose the right type of wine – not too cheap, a fresh, good wine.
-Don't boil for too long.
-Add spices bit by bit, and taste it as you make it – don't just throw in the spices and leave them.
-Don't overdo the cloves! That is the mistake everyone makes – they are extremely strong in flavour.
-Make fresh batches – don't just leave it to stew.