Main content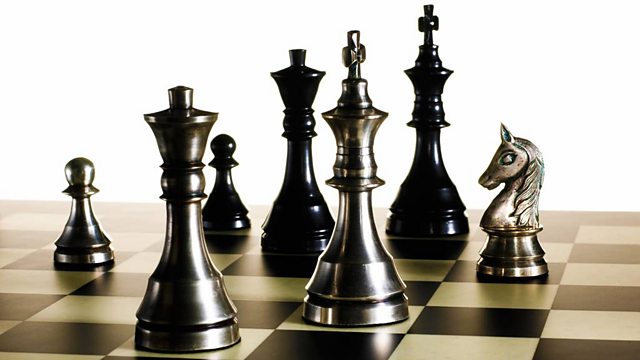 Lewis Carroll - Alice through the Looking Glass
4 Extra Debut. Alice's fantastical story collides with Radio 4, as she crashes a giant game of chess. With Lauren Mote and Julian Rhind-Tutt.
By Lewis Carroll, dramatised by Stephen Wyatt It's mid-winter, the snow is falling against the window, and Alice is learning how to play chess but then, on a whim, she goes to the mirror and pretends her black kitten is the Red Queen and suddenly everything changes ...
With Jim Al-Khalili, Roger McGough, Jenni Murray, Jane Garvey, Eric Robson, Pippa Greenwood, Peter Donaldson, Kirsty Young, Andrew Marr, Evan Davies, Garry Richardson & Melvyn Bragg.
This dramatisation brings out the intellectual spine of Lewis Carroll's classic story - while losing none of the fun.
When Alice crashes through the looking glass she enters a world set out like a giant chess board and discovers science, maths, poetry, riddles, and wordplay. It is instantly entertaining and tantalizingly offers the listener more than meets the ear.
In this fast-moving and surrealist world, Alice has to decode the bizarre rules of the mirror-world. If Alice can get to The Eighth Square she will be Queen. Lewis Carroll is ever present. He sets out the chess game for Alice, teasing the listener into having an overview of his story and exploring the ideas within it.
On her chess journey Alice will meet the Red & White Queen, Humpty Dumpty, Tweedledee and Tweedledum (who might be more familiar than the listener can possibly imagine) and the Red & White Knights. But there's a twist here - Alice will also discover that Radio 4 can be found on the other side of the glass.
Published for Christmas 1871 this story is the mirror image of Alice In Wonderland: the characters are chess pieces instead of cards. It is Winter rather than Summer and time runs backwards. Tim Burton's film was 'inspired' by Lewis Carroll's books but it wasn't Lewis Carroll's book. This is a chance for the Radio 4 listeners to discover the real thing and show them why this classic appeals to philosophers, linguists and chess fans, prefaced Modernism, has provoked a wealth of academic study, and in doing so remind them of the bits they loved in childhood (and the bits they've forgotten).
Mathematician Carroll, prefaced his book with a chess problem. It is claimed the game is a part of a sequence of numbers - that Alice's journey is code - that Carroll was flirting with numerology and esotericism. It is intriguing because Carroll loved number games and puzzles. He was frighteningly clever. He regularly invented things. You could say he was the Mark Zuckerberg of his time.
Last on

How Evan Davies, Jenni Murray and Melvyn Bragg joined Alice through the Looking Glass.
Credits
| Role | Contributor |
| --- | --- |
| Alice | Lauren Mote |
| Lewis Carroll | Julian Rhind-Tutt |
| The Red Queen | Carole Boyd |
| The White Queen | Sally Phillips |
| Humpty Dumpty | Nicholas Parsons |
| Tweedledee | Alistair McGowan |
| Tweedledum | Alistair McGowan |
| The White Knight | John Rowe |
| The White King | Robert Blythe |
| Messenger | Ben Crowe |
| Guard | Patrick Brennan |
| Pudding | Stephanie Racine |
| Writer | Stephen Wyatt |
Broadcasts