Main content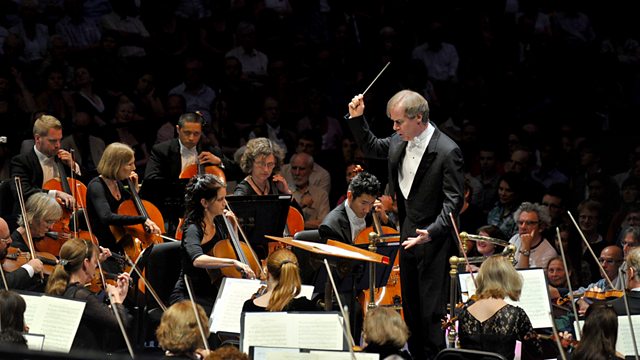 The St Louis Symphony Orchestra and conductor David Robertson perform works by Brahms, Schoenberg and Gershwin. Christian Tetzlaff joins them for Beethoven's Violin Concerto.
Another chance to hear one of the highlights of the 2012 Proms season.
Presented by Katie Derham
The St Louis Symphony Orchestra makes its Proms debut, under Music Director David Robertson. Brahms's dramatic overture opens the programme, followed by Beethoven's challenging and energetic Violin concerto, with Christian Tetzlaff, a soloist who has made regular appearances at the Proms.
These two composers are at the pinnacle of Western music, and the next composer, Schoenberg, venerated both of them. He argued that his own new way of composing followed logically on from these greats. Gershwin may seem an unlikely pairing with Schoenberg, but both became firm friends when living in Hollywood, sharing an interest painting and tennis.
Brahms: Tragic Overture
Beethoven: Violin Concerto
Schoenberg: Five Pieces for Orchestra
Gershwin: An American in Paris
Christian Tetzlaff (violin)
St Louis Symphony
David Robertson (conductor).