Main content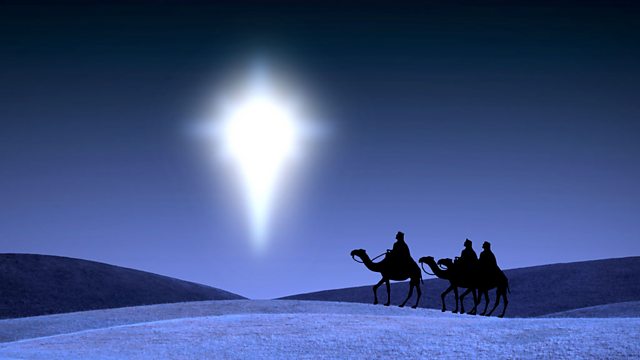 Follow the Star
Hardeep Singh Kholi recreates the cosmos from the first Christmas night at the Greenwich Planetarium, to follow the Star of Bethlehem and uncover the mystery of the Three Wise Men.
Hardeep Singh Kohli presents a special Christmas programme in front of an audience in the Royal Observatory's Planetarium in Greenwich, to recreate the cosmos as it would have been seen 2000 years ago - unravelling the mystery behind the most famous star gazers in history - the Three Wise Men.
Joined by impressionist and amateur astronomer Jon Culshaw; BBC 1's Extreme Pilgrim, Rev Peter Owen Jones; and the Royal Observatory's astronomers; Hardeep embarks on a virtual journey more reminiscent of the Da Vinci Code than a nativity play.
The planetarium - and its specially recreated projections of the ancient skies - forms the central base of this programme, which explores the possible theories behind what could have been the Star of Bethlehem. Using astronomical calculations to look back in time, and with references to ancient astronomical accounts, Hardeep and his guests test some of the popular stories surrounding the Star of Bethlehem and uncover a startling period of intense astronomical occurrences - suggesting that Christ was born between 8 to 6BC.
In the process of "following the star", Hardeep's team track the possible course taken by the Three Wise Men and ask what kind of journey was it? And despite being vital characters in the story of Christ's birth, hardly anything is known about them. The story is that they came from the East and followed a star. In fact, as Hardeep discovers, there's not much evidence to suggest there were even three. Who were they? Why did they show up? Did they really exist?
The audience will be able to follow shifting heavens, as projected in the planetarium, via a specially created page on the Radio 2 website.
And performing live in the planetarium will be The Magnets with their own take on some traditional carols and a wealth of contemporary Christmas music. Other contributors include the Royal Observatory's Public Astronomer - Mark Kukula, Professor David Hughes, Canon Claire Foster Gilbert, and Professor Joan Taylor.
Explore how the cosmos would have been seen 2000 years ago.