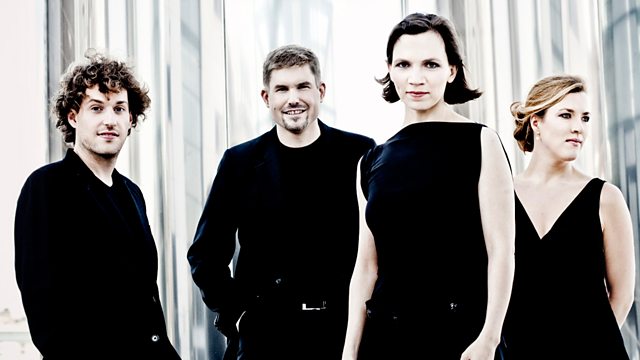 Jennifer Johnston, Signum Quartet, Nicolas Altstaedt
A series of programmes over the Christmas season celebrating and showcasing the talents of the BBC Radio 3 New Generation Artists with a selection of all German composers. British mezzo-soprano Jennifer Johnston performs lieder by Schubert, Schumann and Brahms, and German cellist Nicolas Altstaedt performs Brahms' cello sonata in F. The Signum Quartet - also from Germany and starting their second year on the New Generation Artists scheme - performs Webern's Langsamer Satz and the second quartet by contemporary composer Jorg Widmann.
Brahms: Wiegenlied
Jennifer Johnston (mezzo soprano)
Alistair Hogarth (piano)
Schubert: Die Junge Nonne
Jennifer Johnston (mezzo soprano)
Alisdair Hogarth (piano)
Webern: Langsamer Satz
Signum Quartet
Brahms: Cello Sonata in F
Nicolas Altstaedt (cello)
Jose Gallardo (piano)
Widmann: String Quartet No 2
Signum Quartet
Schumann: Frauenliebe und leben
Jennifer Johnston (mezzo soprano)
Joseph Middleton (piano).
To see video performances of the artists click on 'Clips' above, you can also find out about all the New Generation Artists at 'Artists A-Z'.
Last on