Main content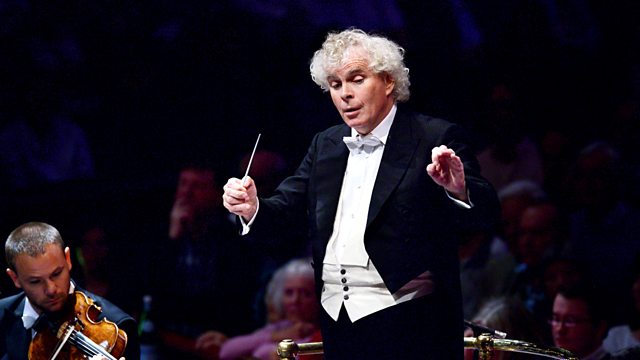 Prom 63: Berlin Philharmonic
A Prom from 2012 featuring the Berlin Philharmonic under Simon Rattle. Ligeti: Atmospheres. Wagner: Lohengrin (excerpt). Sibelius: Symphony No 4. Debussy: Jeux. Plus Ravel.
Another chance to hear one of the highlights of the 2012 Proms season.
Presented by Andrew McGregor
The Berliner Philharmoniker and Simon Rattle return to the Proms for the first of two concerts with an evening of wide-ranging sonic adventure.
In the first half they present three different approaches to the experience of calm, firstly in Ligeti's slowly shifting sound-clouds, then with Wagner's sustained stillness through to Sibelius's most formidable and bleak evocation of a frozen landscape. The French second half is, in contrast, all about movement and dance. Tennis is not the only game played in Debussy's flirtatious ballet Jeux, while Ravel's suite, drawn from his famous ballet begins with a sunrise and ends in an orgy.
Ligeti: Atmosphères
Wagner: Lohengrin - Prelude, Act 1
Sibelius: Symphony No. 4 in A minor
Debussy: Jeux
Ravel: Daphnis and Chloë - Suite No. 2
Berliner Philharmoniker
Simon Rattle (conductor).