Main content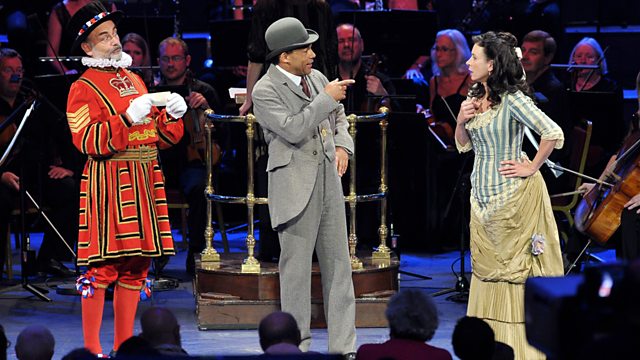 Prom 49: The Yeomen of the Guard
Catherine Bott presents a performance of Gilbert and Sullivan's The Yeomen of the Guard given at the 2012 Proms. With a cast including Leigh Melrose, Andrew Kennedy and Lisa Milne.
Another chance to hear one of the highlights of the 2012 Proms season.
Presented by Catherine Bott
Gilbert and Sullivan: The Yeomen of the Guard
Gilbert and Sullivan's richest and most emotionally engaging operetta set at the Tower of London in the 16th Century, is considered by many to be Sullivan's finest musical score.
Young Colonel Fairfax is imprisoned under the sentence of death for sorcery - in reality he's a scientist and alchemist - but a young girl, Phoebe Meryll and her father who served with Fairfax in the army plan to spring him from the Tower. Add to the story a lovelorn jailer, a young singer, a jester and the Yeomen themselves and you have the makings of a typical G&S operetta with lots of room for humour and twists of plot. The strong cast of soloists and an orchestra and conductor renowned for their G&S performances at the Proms will guarantee a memorable evening.
Gilbert and Sullivan: The Yeomen of the Guard
Elsie Maynard ..... Lisa Milne (soprano)
Colonel Fairfax ..... Andrew Kennedy (tenor)
Jack Point ..... Mark Stone (baritone)
Dame Carruthers ..... Felicity Palmer (mezzo-soprano)
Sergeant Meryll ..... Mark Richardson (baritone)
Wilfred Shadbolt ..... Toby Stafford-Allen (bass)
Phoebe Meryll ..... Heather Shipp (mezzo-soprano)
Lieutenant Sir Richard Cholmondeley ..... Leigh Melrose (bass-baritone)
Leonard Meryll ..... Tom Randle (tenor)
Kate ..... Mary Bevan (soprano)
First Yeoman ..... Jonathan McGovern (baritone)
Second Yeoman ..... Marcus Farnsworth (baritone)
Martin Duncan (director)
BBC Singers
BBC Concert Orchestra
Jane Glover (conductor).