Main content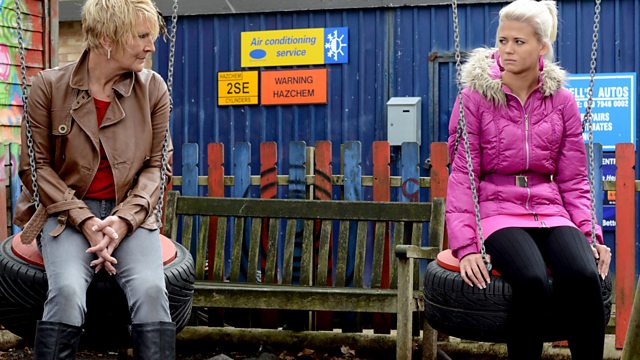 10/12/2012
Alfie decides to confront his fears head on. Meanwhile Phil and Sharon panic when Lola disappears ahead of a visit by social services, and Lauren is given renewed hope about Joey.
Reluctantly, Lola agrees to Phil's new care plan but disappears before the family group conference. Shirley advises Lola to do it her way not Phil's. Lola returns, telling the social worker she's not the best mum, but she will be. She wants Lexi back. Later, Lola tells Phil if Lexi lives with him it's on her terms.
Keen to discover how Kat's ring's back, Alfie asks Jean if she lent Kat money. Jean suggests Charlie might have but Alfie later learns Charlie's broke. Tyler tells Alfie he's got competition on his Christmas stall, but Alfie has bigger worries. The pawn broker refuses to tell Alfie who bought Kat's ring. Alfie asks Kat where the ring receipt is. He's gutted when she lies, claiming she binned it.
Tanya, Lauren, Abi and Whitney notice Rudolph's broken nose. Whitney's loved up with Tyler. Lauren argues with Lucy about Joey. Lucy confesses: Joey loves someone else. Lauren notices the reindeer's nose is fixed.
Zainab wants Masood to find her a job. He suggests volunteer work. Zainab's not happy. Masood tells Zainab her friend's asked if their daughter can some and stay to meet suitors. Zanab's thrilled -they must have a high social standing.
In the launderette, a mountain of washing has piled up. Jean helps Cora, but needs to leave to man the Vic. Cora locks her in but Jean escapes. Abi tells Tanya and Cora they need to talk. They won't. Abi tells Cora Tanya's terrified about getting her scan results, and to go after Tanya. Cora doesn't.
Ian tells Denise she's in contravention of trading standards and can't sell her produce. They banter, both secretly enjoying it!
Alfie buys Bianca some choir gowns to help her raise money for Christmas. Morgan and Liam aren't thrilled at the idea of going carol singing for cash.
Music Played
Timings (where shown) are from the start of the programme in hours and minutes
Credits
| Role | Contributor |
| --- | --- |
| Cora Cross | Ann Mitchell |
| Jean Slater | Gillian Wright |
| Poppy Meadow | Rachel Bright |
| Mo Harris | Laila Morse |
| Whitney Dean | Shona McGarty |
| Tyler Moon | Tony Discipline |
| Zainab Khan | Nina Wadia |
| Masood Ahmed | Nitin Ganatra |
| Phil Mitchell | Steve McFadden |
| Alfie Moon | Shane Richie |
| Kat Moon | Jessie Wallace |
| Lucy Beale | Hetti Bywater |
| Lauren Branning | Jacqueline Jossa |
| Tanya Cross | Jo Joyner |
| Abi Branning | Lorna Fitzgerald |
| Sharon Rickman | Letitia Dean |
| Lola Pearce | Danielle Harold |
| Shirley Carter | Linda Henry |
| Bianca Butcher | Patsy Palmer |
| Liam Butcher | James Forde |
| Denise Fox | Diane Parish |
| Pawnbroker | Anton Saunders |
| Ian Beale | Adam Woodyatt |
| Arthur 'Fatboy' Chubb | Ricky Norwood |
| Morgan Butcher | Devon Higgs |
| Executive Producer | Lorraine Newman |
| Director | Richard Lynn |
| Writer | Jeff Povey |