Main content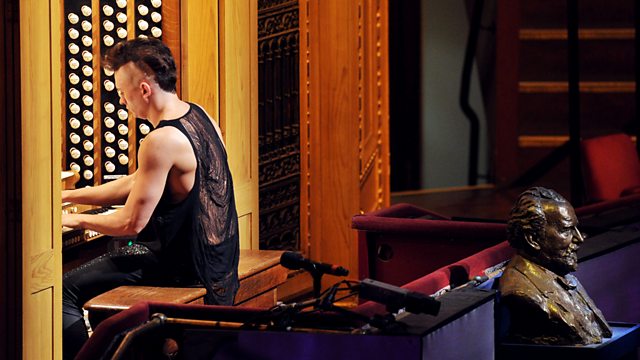 American virtuoso Cameron Carpenter plays the mighty Albert Hall organ, exploring the music of the instrument's greatest composer, JS Bach, and his own improvisations.
Another chance to hear one of the highlights of the 2012 Proms season.
Presented by Christopher Cook
American organ virtuoso Cameron Carpenter brings his extraordinary manual and pedal dexterity to bear on the mighty Royal Albert Hall organ in the first two concerts exploring the works of the greatest composer for the instrument, JS Bach, and his own extraordinary improvisations.
Famous for his prodigious abilities and performance flair, Cameron Carpenter in these concerts plays Bach both in its original form and as viewed through the prism of other composers - including himself: the concert includes his reworking of part of a Bach solo violin partita. Alongside it are a chorale prelude arranged for piano by Busoni, and Henry Wood's and Busoni's arrangements of the famous D minor Toccata and Fugue re-imagined by Cameron Carpenter.
Bach: Toccata and Fugue in F major, BWV 540
Partita No. 3 in E major for solo violin, BWV 1006 - excerpt (arr. C. Carpenter)
Prelude and Fugue in A major, BWV 536
Chorale Prelude 'Nun freut euch, lieben Christen', BWV 734 (arr. Busoni/C. Carpenter)
Carpenter: Improvisation on B-A-C-H
Bach: "Evolutionary" Toccata and Fugue in D minor, BWV 565, (arr. Wood, Busoni and Carpenter)
Cameron Carpenter (organ)
Featured in...
We broadcast more live and specially-recorded concerts and opera than any other station.