Main content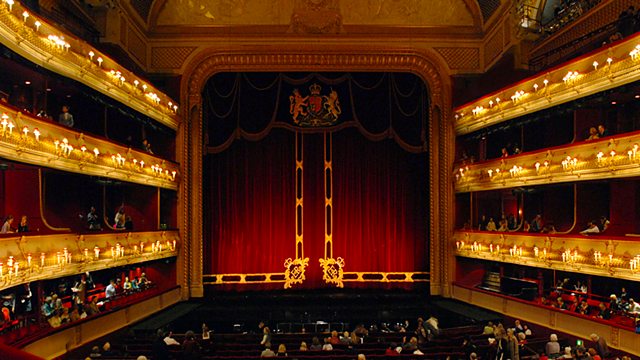 Das Rheingold
Donald Macleod presents a performance of Wagner's Das Rheingold given at the Royal Opera House, Covent Garden. With Bryn Terfel as Wotan and Wolfgang Koch as Alberich.
Wagner's Das Rheingold
Presented by Donald Macleod
From the Royal Opera House Covent Garden, Antonio Pappano conducts the first of the music dramas comprising Wagner's epic Ring Cycle, originally broadcast live in October with the rest to be broadcast act by act weekdays over the next fortnight.
In Das Rheingold, the dwarf Alberich renounces love and steals the Rhinegold from the Rhinemaidens with which he forges a magic ring. Meanwhile Wotan, chief of the gods, has built his mighty fortress Valhalla with the help of the giants. But in order to pay them back, Wotan in turn needs to steal the Rhinegold back from Alberich. And so with this double theft Wagner sets up the theme of love versus power that reverberates throughout all four dramas.
Woglinde.....Nadine Livingston (Soprano)
Wellgunde.....Kai Ruutel (Mezzo-Soprano)
Flosshilde.....Harriet Williams (Mezzo-Soprano)
Alberich.....Wolfgang Koch (Baritone)
Wotan.....Bryn Terfel (Bass-Baritone)
Fricka.....Sarah Connolly (Mezzo-Soprano)
Freia.....Ann Petersen (Soprano)
Fasolt.....Iain Paterson (Bass)
Fafner.....Eric Halfvarson (Bass)
Froh.....Andrew Rees (Tenor)
Donner.....Peter Coleman-Wright (Baritone)
Loge.....Stig Andersen (Tenor)
Mime.....Gerhard Siegel (Tenor)
Erda.....Maria Radner (Contralto)
Orchestra of The Royal Opera House
Conductor, Antonio Pappano.