Main content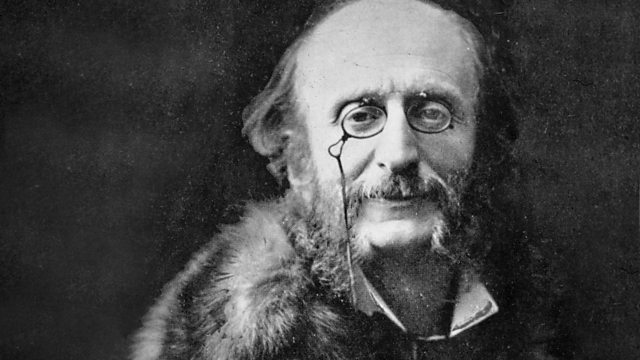 Donald Macleod traces Offenbach's early years from Cologne to Paris where, after years of struggle, he achieve his first big theatrical success.
According to Wagner, "He writes like the divine Mozart", but it's a connection that isn't necessarily obvious. Jacques Offenbach is, after all, the man who gave us the can-can.
Offenbach's music is largely a product of the Second Empire, a period that's popularly associated with a cynical, pleasure loving mood and the rule of Napoleon III. The politics of the world he lived in was fodder for a wealth of topical gags and daring allusions, parodies that audiences streamed through the doors of the Théâtre des Bouffes-Parisiens to watch. The triumph of "Orphée aux Enfers" in 1858 was followed by a breathtaking number of operas and operettas, the most successful, La Belle Hélène, La Vie Parisienne, Barbe-Bleue, La Grande-Duchess de Gérolstein and La Périchole, made him a fortune and took him to international fame.
His facility to compose was extraordinary. He could write, orchestrate and produce a one-act work within the space of a week, happy to compose amid the noise of his family, wife and five children. Wherever he went, he wrote music, even in his coach, where he had a desk made so he could continue while he was moving between theatres. By the time of his death in 1880 he'd written over one hundred works for the stage.
A thin, gaunt man, he struggled with painful gout and rheumatism all his life. Never weighing more than six stones, he nonetheless lived his life to the full, enjoying gambling, women, cigars and amateur dramatics whenever he could tear himself away from his multiple theatrical commitments.
The advent of the Third Republic presented an artistic crossroads for Offenbach. The king of operetta found himself out of step with the changing tastes of theatre-goers. As he struggled to find a place for his music in the new order, he began to move towards a more profound style of musical expression. In 1877 he began work on what's now regarded as his masterpiece, Les Contes d'Hoffmann. Tragically, he died before completing it, at the age of 61. The task of finishing Offenbach's final statement was given to Ernest Guirard, and the restoration of Offenbach's reputation turned into a posthumous victory.
In the first programme Donald Macleod traces Offenbach's roots back to Cologne, where he lived until the age of fourteen. Something of a child prodigy, it was his musical promise that encouraged his father to bring him to Paris, where pretty soon Offenbach was keen to make his mark as a composer.
More episodes
Previous
You are at the first episode