Main content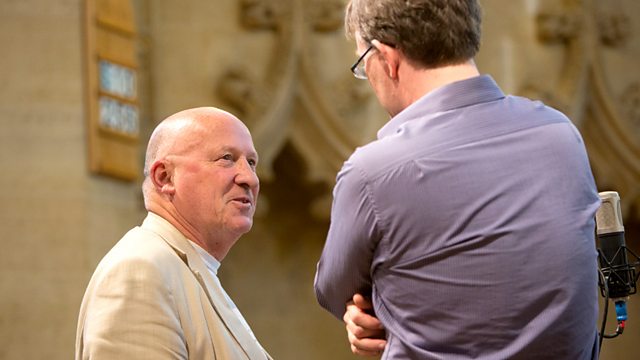 The Pythagorean Comma
Gavin Bryars and Blake Morrison's contemporary take on a Jules Verne tale about one of the oldest mysteries in the science of sound, setting the story on a remote Scottish island.
Loosely based on Jules Verne's story "Mr Ray Sharp and Miss Me Flat", "The Pythagorean Comma" is a music drama with text by Blake Morrison and music by Gavin Bryars. It's about one of the oldest mysteries in the science of sound. The story says Bryars, "has wit, whimsy, fantasy and magic and is also about scientific experiment".
Verne's story takes place in a 19th century Swiss village. This contemporary take on the original is set on a remote fictional Scottish island but the essential story is unchanged.
A village organist gets old and deaf and stops playing and the organ falls silent. A mysterious stranger arrives who not only plays the organ beautifully but also declares that he will develop a new organ registration with the voices of the children in the school. Each will have his or her own note that has a special resonance.
Though the children are musically untrained, the stranger rehearses them with an iron discipline and prepares them for a Christmas concert. It's at this concert that he demonstrates his phenomenon of a "human organ". He tells the children that he will make them famous and that they are a choir like no other choir.
A boy and girl who are arch rivals are given their special notes. They're angry because this strange music maestro seems to have given them the same note. However he explains that there is a tiny beating sound between them - and this difference is the Pythagorean Comma. The two children are relieved that they have their own notes but strangely, once they start to sing, their old rivalry disappears and it is as if a new harmony has come to them and to the village in general.
The stranger seems to have a power over the choir and they outperform everyone's expectations in a Christmas concert for the island community.
Composer Gavin Bryars and author Blake Morrison have collaborated before on a Jules Verne story, 'Doctor Ox's Experiment' - also about Verne's interest in music and science.
Gerda Stevenson stars as the narrator, Anna. She's the church warden and mother of a child she christened Ian but who now has the new name of Ray because his special note is Ray sharp. She sees at first hand how the stranger brings his gift of music.
Anna ..... Gerda Stevenson
Irvine ..... Gerard McDermott
Kubiak ..... Renny Krupinski
Ray ..... Daniel Kerr
Mimi ..... Olivia Cosgrove
Oakham School Jerwoods Choir
Soloist, Dominic Hill
Conductor, Peter Davis
Organist, Thomas Chatterton
Sound Design, Mike Thornton
Producer and Director, Judith Kampfner
A Corporation for Independent Media Production
Picture: Gavin Bryars and Peter Davis in the Oakham School chapel. Photo: Rupert Conant.