Main content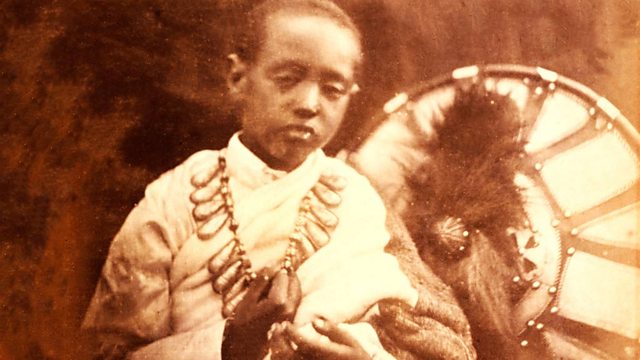 Poet Lemn Sissay chooses Prince Alamayu who, like him, was Ethiopian and adopted in Britain. With Matthew Parris. From December 2012.
A royal prince rescued from a savage fate by the British - or a child prisoner of war? Poet Lemn Sissay joins Matthew Parris to discuss the life of Queen Victoria's favourite, the Abyssinian Prince Alamayu, and finds many surprising parallels with his own.
Writer Elizabeth Laird joins the debate.
Lemn Sissay MBE is a poet, playwright and performer of Ethiopian heritage who was 'raised by Wigan Social Services': 'the guilty secret of an innocent woman and a dead man'. Saved from a loveless childhood by a passion for words, Lemn's work has been inspired by the consequences of his early life and the search for his family.
Prince Alamayu was uprooted from his home after the British defeated his father in the Abyssinian Expedition of 1868. Taken to England as an orphaned seven year old, speaking no English, he was befriended by the Queen and became an unwilling national celebrity. Alamayu was refused permission to return home despite the pleas of his grandmother. He died at the age of eighteen while staying with a friend in Leeds, of pleurisy.
Elizabeth Laird writes fiction for children and young adults, set in places around the world where she has lived and worked, including Ethiopia. Her novel 'The Prince Who Walked with Lions' is based on the life of Prince Alamayu.
In this moving and evocative programme Lemn's personal experiences of loneliness as a solitary black child in a white community, longing for a real family, shine a light on the tragic life of a young prince whose heritage he shares.
Reader...Liza Sadovy.
Produced by Mary Ward-Lowery
First broadcast on BBC Radio 4 in 2012.