Main content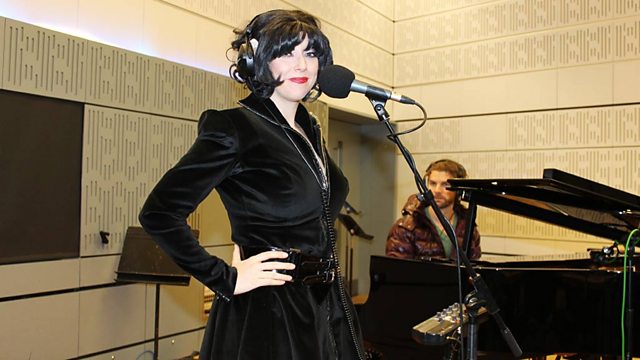 Sheridan Smith; Meow Meow; Alcohol and teenagers
Meow Meow in cabaret, Sheridan Smith on her new screen role, alcohol and teenagers - how to negotiate the party season, Ann McKechin MP on the Women in the Workplace Parliamentary Inquiry. Presented by Jane Garvey.
Last on
Chapters
Women in the Workplace

Ann McKechin MP speaks about the Select Committee Inquiry into Women in the Workplace

Duration: 08:54

Teenagers, drink and parties

What is the best approach to teenage parties and is it possible to be too liberal?

Duration: 07:42

Cabaret performer Meow Meow

Meow Meow sings live in the studio and talk about her career

Duration: 09:20

Ballgowns

The story behind the dress designed for Alexander McQueen and worn by Daphne Guinness.

Duration: 04:20

Sheridan Smith

The actress discusses her career and her role in the Dustin Hoffman film Quartet

Duration: 12:26

Women in the Workplace

More than forty years after the Equal Pay Act, how far have we come in tackling inequalities between men and women in the workplace?  What has the impact of the current economic crisis been on female employment and wage levels? Back in November, we spoke to Labour MP, Ann McKechin about the Business, Innovation and Skills Inquiry into Women in the Workplace. We also invited listeners to submit written evidence. Tomorrow we will hear how the inquiry has been progressing and who some of the key witnesses have been. You can submit your views to the inquiry by email: biscom@parliament.uk

Teens, drink and parties – a parent's role

No parent wants to see photographs of their trashed living room in the national press revealing the damage done by hoards of drunk and out of control teens. But no one wants to be the Victorian parent that bans fun. So what is the best approach to teenage parties and is it possible to be too liberal? We talk to writer Amanda Craig and blogger Chris Mosler about how hard it is to get it right?

Cabaret performer Meow Meow

International cabaret performer Meow Meow is currently performing her version of the Little Match Girl at the Queen Elizabeth Hall as a part of their Winter Festival.  It is a dark and twisted version of the Hans Christian Andersen tale and was a massive hit at the Sydney festival earlier this year. Definitely not one for the children, Meow Meow is described as 'gutsy, glamorous, grotesque, rude, and very funny'. She joins Jane Garvey in the Woman's Hour studio, and sings live for us.

V&A Ballgowns – McQueen

Sheridan Smith

The actress Sheridan Smith, known for her comedic roles in Two Pints of Lager and a Packet of Crisps and Benidorm, has had a busy year. She's played the title role in the drama series Mrs Biggs. She's wowed theatre audiences and critics with her Hedda Gabler and she's also starred in three films. Her latest is 'Quartet', directed by Dustin Hoffman. She plays the role of the in-house doctor at a home for retired musicians and opera singers that include Maggie Smith, Billy Connolly and Tom Courtenay.

Quartet is in cinemas from 1st Jan 2013.

Broadcast

Podcast

Women's voices and women's lives - topical conversations to inform, challenge and inspire.