Main content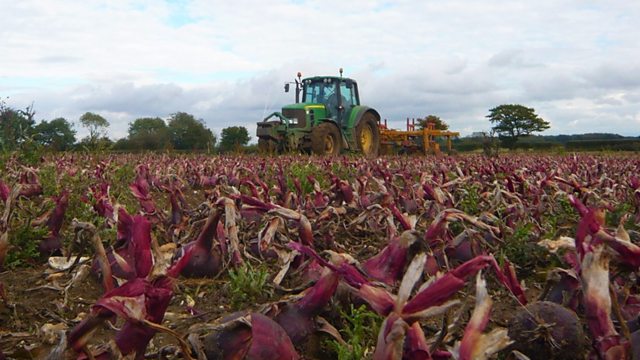 Cheap Veg
Sheila Dillon discovers surprising stories behind humble British vegetables.
Cheap veg - the surprising stories behind humble British vegetables. Sheila Dillon enlists three experts to uncover the hidden side of our veggies.
Ethno-botanist James Wong argues that rhubarb is the only uniquely British indigenous vegetable. Agricultural expert Dr Oliver Moore discovers the work that a seed bank in Ireland is doing to increase variety in our potatoes. And food writer Andrew Webb unearths new uses for onions.
Presented by Sheila Dillon and produced by Emma Weatherill.
James Wong's Raw Rhubarb Achar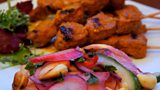 A cross between a fruity salsa & crisp pickles, Achar is a Malaysian salad that adds a bright, zingy note to rich curries, grilled fish & satay. Here is my fusion take that uses rhubarb much like green mangos or green papayas to add a fresh zesty note to an old school street food favourite.
Serves 4 as a side dish
What you need:
2 sticks of forced winter rhubarb (summer rhubarb can be a little tough & stringy), sliced very thinly
1/4 cucumber, finely sliced into bite-sized pieces
1/4 pineapple, finely sliced into bite-sized pieces
1/4 red onion, finely sliced
1 red chili, finely slice
1 tbsp of sugar
1/4 tsp of salt
2 tbsp of white vinegar
1 small sprig of mint, finely chopped
2 tbsp of roast cashews, finely chopped.
What to do:
1. Combine all the ingredients, except for the cashews, in a large mixing bowl and toss together to combine.
2.Cover and pop in the fridge for the flavours to meld overnight (or for at least 2 hours). The vinegar will part pickle the vegetables, with the sugar and salt will drawing out the excess moisture & making them firmer and crisper.
3.Before serving, drain off the excess liquid & scatter over the roast cashews.
4.Serve cold with grilled fish, rich curries or satay.
For more rhubarb recipes from James Wong check out his blog homegrow-revolution.co.uk
Fiona Beckett's Stuffed baked potatoes with cheese onion and bacon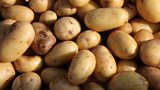 Life, you might think, is too short to stuff a potato but you get the best of all worlds - crispy baked potato skin, mashed potato filling and crispy cheesy crust. Mmmmm. 
Serves 4 (or possibly 8 if you're using it as a side dish rather than a main meal)
4 x medium to large potatoes, about 250g each
3-4 tbsp vegetable or sunflower oil
1 medium onion, peeled and finely chopped
4 back bacon rashers or 8 streaky rashers (about 125g in total), finely chopped
A good slice (25g) butter
4-5 tbsp milk or a mixture of milk and cream, sour cream or fromage frais
125g mature cheddar, grated
Preheat the oven to 200°C/400°F/Gas 6. Scrub the potatoes clean, dry them prick them with a fork and rub them lightly with oil. Bake them for an hour to an hour and a quarter, turning them half way through. Take the potatoes out of the oven and leave to cool slightly while you heat the remaining oil and fry the chopped onion and bacon until crisp. Cut the potatoes in half and carefully scoop out the centre without breaking the skin. Mash until smooth then add the butter and milk or milk and cream and mash again. Add the fried onion and bacon and a third of the cheese, mix well together and season with salt and pepper. Pile the filling back into the potatoes, top with the remaining grated cheese. Turn the oven up to 220°C/425°F/Gas 7 and cook the potatoes until the topping is nice and crisp.
* You could replace the cheddar with other hard cheeses such as Lancashire or Red Leicester or a crumbly blue cheese like stilton
Check out more recipes at the thefrugalcook.blogspot.co.uk
Anthony Demetre's Onion Soup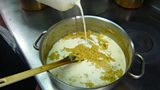 500g white onions - peeled and sliced thinly
100g unsalted butter.
1 litre full fat milk
2 cloves garlic - peeled & split
200 ml water
Salt & pepper
Nutmeg
Parmesan
Olive oil
Sweat the onions in the butter until very soft and lightly caramelised. Add all the milk & water and gently bring to a simmer and cook for 20 mins. Finish with grated nutmeg, lots of parmesan & olive oil to taste.
This soup works extremely well with toasted sourdough bread placed into the bowl and the soup poured over, or you could use rustic style croutons.