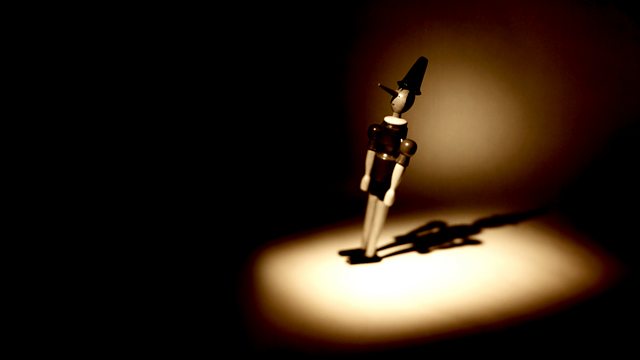 Carlo Collodi - Pinocchio
Carlo Collodi's classic tale of a wooden puppet who wants to be a boy dramatised by Linda Marshall Griffiths.
When Geppetto's wooden puppet miraculously comes to life, Geppetto names him Pinocchio and imagines a bright future together. Pinocchio must understand what it is to be a boy and the first step is school. But danger and folly lurk around every corner and it is hard for Pinocchio to find the right path. The world is full of temptation, contradiction and fear. Will Pinocchio find his way to becoming a real boy?
Original Music by Olly Fox
Sound Design by Steve Brooke
Directed by Nadia Molinari.
Last on
Linda Marshall Griffiths talks about her new dramatisation of Pinocchio
Carlo Collodi
A brief biography of Carlo Collodi, author of "The Adventures of Pinocchio". The book, his most famous work, was written between 1881 and 1883 and originally serialized in an Italian children's newspaper. 
Credits
| Role | Contributor |
| --- | --- |
| Pinocchio | Ellis Hollins |
| Geppetto | Steve Evets |
| Fox | Lee Ingleby |
| Coachman | Lee Ingleby |
| Cricket | Lee Ingleby |
| Cat | William Ash |
| Hawker | William Ash |
| Giangio | William Ash |
| Blue Fairy | Lyndsey Marshal |
| Candlewick | Tom Rolinson |
| Harlequin | Tom Rolinson |
| Puppeteer | Jonathan Keeble |
| Policeman | Jonathan Keeble |
| Auctioneer | Jonathan Keeble |
| Director | Nadia Molinari |
| Writer | Linda Marshall Griffiths |