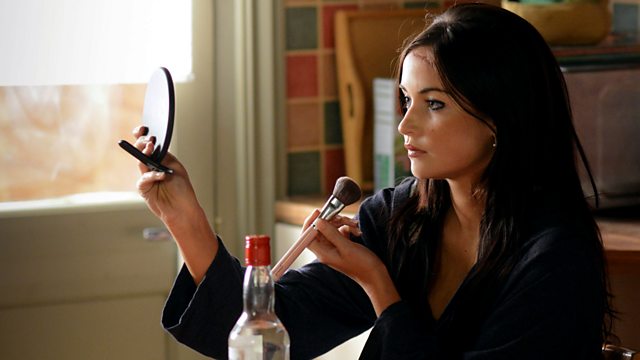 03/12/2012
Ian can't face going to Ben and Jay's sentencing; should he have told Ben to retract his statement? Sharon accompanies Phil. Jay won't let Abi go with him. Ben's sentenced to four years and Jay to community service. Later, finding Jay in the Arches, Phil assures him he couldn't have stopped Ben. Phil's blaming himself; if only he'd got Ben help. He doesn't want to ruin Jay's life too. In tears, Phil tells Jay 'I'm sorry son'. They hug. Returning to the B&B, Jay embraces a relieved Abi. Sharon assures Phil that he can put right the mistakes he made with Ben with Lexi. A voice breaks in from behind 'how sweet' – Shirley's back.
Alfie and Fatboy return from Germany laden with decorations and festive snacks. Discovering Kat's out, a paranoid Alfie phones her repeatedly. Fatboy and Alfie plan to set up a Christmas stall in competition with Derek and Tyler. They decide on a wager; the losing stall gives up their Christmas Eve takings. Kat eventually returns and presents Alfie with a framed photo of them with Tommy. She feels terrible when Alfie gives her a necklace with stones similar to her mum's ring.
Lauren returns to Cora's with booze but Cora sends her away. Cora looks at her silver bracelet. She joins Patrick in the Vic and learns he's going to stay with Anthony for Christmas. Drunk, Lauren joins Lucy and Whitney in R&R. She's rude to Joey who refuses to serve her. Later, finding her slumped on the stairs Joey's tender but then checks himself leaving Lauren confused and tearful.
Bianca promises the kids a Christmas tree. She does well at her Booty trial as does Lola. Impressed, Tanya offers them both jobs but for tips only.
Poppy's thrilled with the snow globe Fatboy brings her from Germany.
Last on
Credits
| Role | Contributor |
| --- | --- |
| Shirley Carter | Linda Henry |
| Phil Mitchell | Steve McFadden |
| Sharon Rickman | Letitia Dean |
| Alfie Moon | Shane Richie |
| Kat Moon | Jessie Wallace |
| Ian Beale | Adam Woodyatt |
| Lucy Beale | Hetti Bywater |
| Jay Mitchell | Jamie Borthwick |
| Abi Branning | Lorna Fitzgerald |
| Tanya Cross | Jo Joyner |
| Poppy Meadow | Rachel Bright |
| Lola Pearce | Danielle Harold |
| Bianca Butcher | Patsy Palmer |
| Carol Jackson | Lindsey Coulson |
| Cora Cross | Ann Mitchell |
| Patrick Trueman | Rudolph Walker |
| Arthur 'Fatboy' Chubb | Ricky Norwood |
| Derek Branning | Jamie Foreman |
| Jack Branning | Scott Maslen |
| Lauren Branning | Jacqueline Jossa |
| Joey Branning | David Witts |
| Whitney Dean | Shona McGarty |
| Jean Slater | Gillian Wright |
| Roxy Mitchell | Rita Simons |
| Liam Butcher | James Forde |
| Morgan Butcher | Devon Higgs |
| Executive Producer | Lorraine Newman |
| Director | Tim Mercier |
| Writer | Rob Gittins |