Main content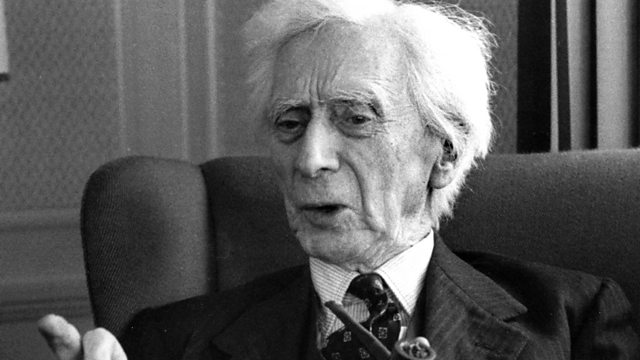 Bertrand Russell
Melvyn Bragg and his guests discuss the influential 20th-century British thinker Bertrand Russell, widely regarded as one of the founders of Analytical philosophy.
Melvyn Bragg and his guests discuss the influential British philosopher Bertrand Russell. Born in 1872 into an aristocratic family, Russell is widely regarded as one of the founders of Analytic philosophy, which is today the dominant philosophical tradition in the English-speaking world. In his important book The Principles of Mathematics, he sought to reduce mathematics to logic. Its revolutionary ideas include Russell's Paradox, a problem which inspired Ludwig Wittgenstein to pursue philosophy. Russell's most significant and famous idea, the theory of descriptions, had profound consequences for the discipline.
In addition to his academic work, Russell played an active role in many social and political campaigns. He supported women's suffrage, was imprisoned for his pacifism during World War I and was a founder of the Campaign for Nuclear Disarmament. He wrote a number of books aimed at the general public, including The History of Western Philosophy which became enormously popular, and in 1950 he was awarded the Nobel Prize in Literature. Russell's many appearances on the BBC also helped to promote the public understanding of ideas.
With:
AC Grayling
Master of the New College of the Humanities and a Supernumerary Fellow of St Anne's College, Oxford
Mike Beaney
Professor of Philosophy at the University of York
Hilary Greaves
Lecturer in Philosophy and Fellow of Somerville College, Oxford
Producer: Victoria Brignell.
Last on
Listen to Bertrand Russell's 1948 Reith Lectures series 'Authority and the Individual'.
FURTHER READING
A. J. Ayer, 'Bertrand Russell' (University of Chicago Press, 1988)
A. C. Grayling, 'Russell: A Very Short Introduction' (Oxford University Press, 2002)
Nicholas Griffin (ed.), 'The Cambridge Companion to Bertrand Russell' (Cambridge University Press, 2003)
Peter Hylton, 'Russell, Idealism, and the Emergence of Analytic Philosophy' (Oxford University Press, 1993)
Caroline Moorehead, 'Bertrand Russell: A Life' (Viking Adult, 1993)
Bertrand Russell, 'Autobiography' (various editions and publishers)
Bertrand Russell, 'The Problems of Philosophy' (various editions and publishers)
Bertrand Russell, 'Introduction to Mathematical Philosophy' (various editions and publishers)
Bertrand Russell, 'Our Knowledge of the External World: As a Field for Scientific Method in Philosophy' (various editions and publishers)
Bertrand Russell, 'My Philosophical Development' (various editions and publishers)
John Watling, 'Bertrand Russell' (Oliver & Boyd, 1970)
Broadcasts