Main content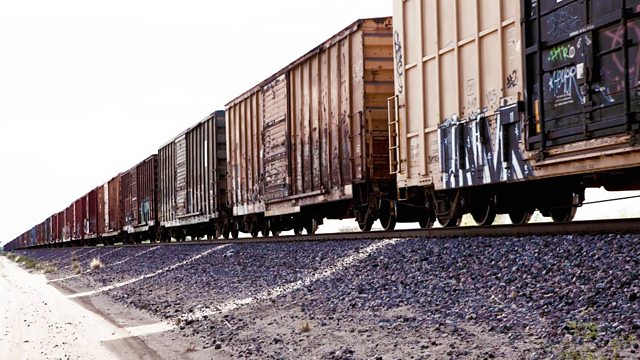 Train Hopping in the USA
High-risk adventure or desperate necessity? Peter Bowes finds out who chooses to jump freight trains in the USA in the 21st century, from modern-day hobos to migrant workers.
"The last red blooded American adventure out there" - the words of a man who doesn't need to ride the rails, but does it for excitement.
Train hopping has a long tradition in America - from Jack London to the 1930s, when the unemployed took to the rails to find work. Despite increased security since 9/11, train hopping is far from a forgotten way of travelling in the USA - but the demographics are new.
Today the vast majority are illegal workers, mainly Hispanic, who seek to cross the border in to the States, and join legal migrants following the seasonal work - from lumber cutting in the north, to the melon fields of California. They risk entanglement with border guards and heavy machinery, even hanging in wire baskets under the units to avoid detection. Others take that risk voluntarily - seeking fun and adventure - getting their information from handbooks, conventions and websites giving safety tips and eulogising the thrill to be had taking to the rails. Finally, there are the hobos - people who choose to spend their lives on the road, and rails - welcomed annually as romantic heroes in Britt, Iowa, at the Hobo Festival.
Peter Bowes hears from the train hoppers of the 21st century - hair-raising tales from illegal migrants from Honduras and El Salvador; the engine drivers who takes two mile long freight trains across the remotest wildernesses in America, spotting 'jumpers' alongside the desert tracks; and those who prefer the excitement of an open box car to the safety of the wheel - preferring to lie on top of a lumber car and watch a starry sky as the wheels thunder below. Romance and danger - desperation and fear - the real world of "Train Hopping In The USA" today.
Producer: Sara Jane Hall.
Railway crossing in California