Main content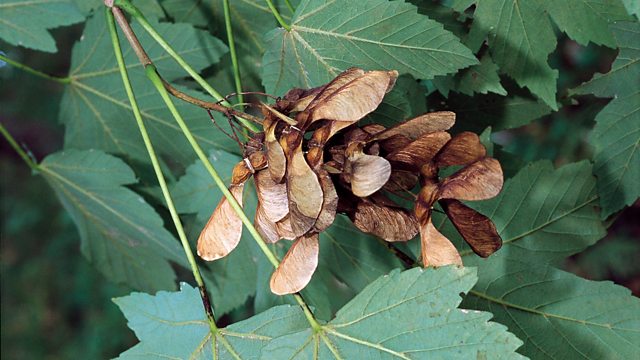 Fiona Stafford discusses the sycamore: often seen as a lowly, common tree, causing nuisance to millions of people. But it also has amazing properties that are sometimes ignored.
Fiona Stafford, Professor of Literature at Somerville College Oxford, explores the symbolism, importance, topicality and surprises about five different trees and, across the series of essays, our ambiguous relationship with trees.
This edition is dedicated to the sycamore.
Sycamore seeds have their own propellers, sending them far and wide on the wind; hence, they take root all over Britain and Ireland. Being hardy trees, resistant to salt, they even grow easily in the coastal areas of the north.
A familiar feature of almost every rural area, their thick foliage offers shade to sheep and cattle, shelter to solitary farmhouses, and inspiration to poets as varied as John Clare and W. B. Yeats. For the Compleat Angler, the sycamore's shade was the perfect place for quiet meditation, and in "Tintern Abbey", Wordsworth expressed his profound delight in the Wye valley from under a "dark sycamore". The oldest sycamore is probably the Tolpuddle tree, where the Dorset labourers gathered to stand up for their rights and numerous visitors have come to pay homage since. The hated, yet common and useful - a theme humanity understands well.
Sycamore leaves are "the wrong kind of leaves on the line" that so disrupt British railways each year. Loved by urban councils, the sycamore is the most common tree in cities as it tolerates pollution and harsh city streets so well, yet some countryside organisations see it as a "weed" which needs to be removed. Seen as an ordinary tree, the sycamore has never been valued for its rich timber, even though its wood is as strong as oak, and more easily dyed; the sycamore stands for extraordinary possibilities latent in the commonplace.
More episodes
Next
You are at the last episode