Main content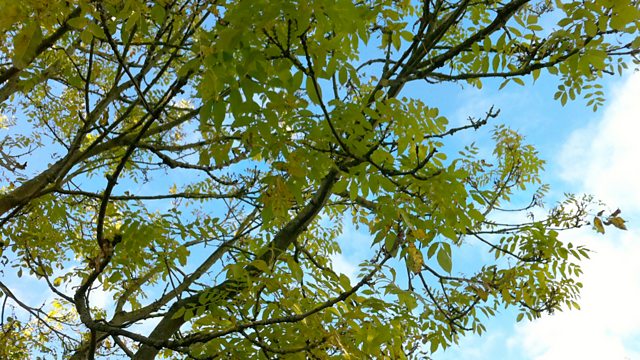 Fiona Stafford on the history and symbolism of ash trees, threatened by dieback disease. Despite many different epidemics over the centuries, delicate ash trees have survived.
Fiona Stafford, Professor of Literature at Somerville College Oxford, explores the symbolism, importance, topicality and surprises about five different trees and, across the series of essays, our ambiguous relationship with trees.
In this Essay she tackles the tree which has suddenly hit the headliness. The Ash has been threatened by the arrival in Britain of dieback disease. But the Ash has survived since the birth of humanity and met mortal threats before.
Despite many different near fatal epidemics over the centuries, delicate ash trees have survived for millennia.
Our history with the ash is long. The ash exudes a sugary substance that was fermented to create the Norse Mead of Inspiration. In Norse mythology, the World Tree Yggdrasil is commonly held to be an ash tree, and the first man, Ask, was formed from an ash tree. Elsewhere in Europe, snakes were said to be repelled by ash leaves, shadows from an ash tree would damage crops, ash was thought to cure warts or rickets and in Sussex the ash was known as the Widow Maker because the large boughs would often drop without warning.
Ash is musical, often used as material for guitar bodies and drum shells.Charmingly, ash is still used for suspension in Morgan cars. But how will we start to replace this flexible, delicate yet persistent wood and protect the timber from which humanity was formed, while it fights off yet another threat to its own existence?