Main content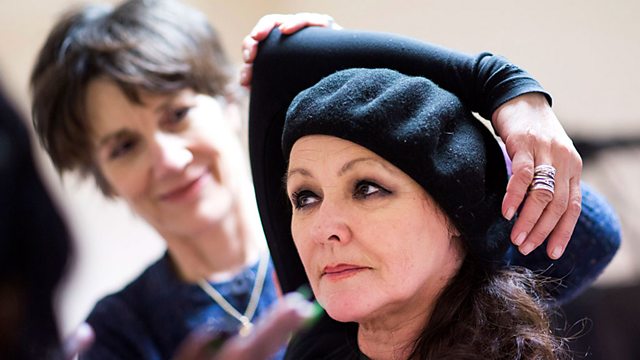 Phyllida Lloyd; Alaa Murabit
Phyllida Lloyd and Melissa Dunne discuss gender-blind casting. Alaa Murabit talks about Libyan women in politics. Mark Lawson and Lucy Cavendish on admitting you fancy someone.
Phyllida Lloyd and Melissa Dunne on gender-blind casting. As an all-female Julius Caesar opens on the London stage and a festival of new writing asks for scripts which don't specify whether the character is a man or a woman - we explore what difference it makes whether men or women play dramatic roles?
How black and ethnic minority women are being discriminated against in all stages of the recruitment process. We hear about a new report from the All Party Parliamentary Group on Race and Community.
Alaa Murabit - founder of The Voice of Libyan Women - discusses women's involvement in politics pre and post the overthrow of President Muammar Gaddafi.
Mourning for a miscarriage. The experiences of Zoe and Andy Clark-Coates have led them to organise a series of services for other parents to publicly acknowledge their loss and grief. The Saying Goodbye initiative is holding a service this weekend at Bristol Cathedral.
Mark Lawson and Lucy Cavendish discuss whether the rules are different for men and women when it comes to publicly admitting that you fancy an actor ?
Presenter Jenni Murray
Producer Dianne McGregor.
Last on

Chapters
Black and Ethnic Minority Women & Unemployment Levels

Kate Green MP discusses a new report on race and community

Duration: 06:14

Saying Goodbye

The remembrance services held for anyone who's lost a baby through pregnancy or stillbirth

Duration: 08:28

Gender Blind Casting

What do we gain when theatre productions experiment with gender?

Duration: 10:16

The Voice of Libyan Women

What part might women play in the political future of Libya?

Duration: 09:09

Fancying

Do women practice double standards when it comes to objectifying people they lust after?

Duration: 07:27

Gender blind casting: What difference does it make whether men or women play dramatic roles?

A new production of Julius Ceasar, with an all-female cast headed by Harriet Walter as Brutus is currently being performed on the London stage. The Director, Phyllida Lloyd wants to redress the gender imbalance that she sees around her every day in the theatre. It is an imbalance that – although rooted in theatrical history, not least the fact that Shakespeare wrote 788 male and 141 female characters – has not yet been rectified, either by newer repertoire or by any significant appetite for gender-blind casting. Meanwhile the XY short play festival also in London asks writers to write plays without saying which character is which gender. To discuss Jenni is joined by Phyllida Lloyd and Melissa Dunne, artistic director and curator of the XY Festival. 

Julius Ceasar is on at the Donmar Warehouse, London until the 9th February

XY Festival is on at Theatre 503, London on the 9th and 10th December

 

Black and Ethnic Minority women and unemployment levels

A report from the all-party parliamentary group on race and community will be published tomorrow saying Black and minority ethnic women face "catastrophic" levels of unemployment and are discriminated against at "every stage" of the recruitment process. Despite latest official figures showing, nationally, unemployment has continued to fall, the report says racial bias is holding some women back from getting a job. Kate Green MP is a member of the All Parliamentary Group. She talks to Jenni about the report's findings

Saying goodbye - losing a baby through pregnancy or stillbirth

This Saturday in Bristol a remembrance service will be taking place for anyone who's lost a baby through pregnancy or stillbirth.  It's one in a series of services that have been taking place across the country this autumn called Saying Goodbye, set up by Zoe and Andy Clark-Coates.  Although they now have two young children, their own experience of miscarriage has led them to organise these services for parents who've experienced similar feelings of grief but have had no way of publicly acknowledging their loss. Reporter Fiona Clampin went along to the first service in Exeter Cathedral.  

The voice of Libyan women

One year since the toppling of Gadaffi, women are gaining an increasing political voice in Libya.  Seventeen percent of elected members to the new parliament and two cabinet members are female and women are working in increasing numbers outside the home.  So, what is the future of women in Libya?  Alaa Murabit is 22.  Raised in Canada, she returned to Libya with her family in her teens to study medicine.  Following the revolution in 2011, she set up the Voice Of Libyan Women, an NGO dedicated to equality.  She talks to Jenni about the future for women in the country.

Women's lustful banter - is it okay to discuss pecs and washboard stomachs in public?

Is it okay to say that you fancy someone and do women practice a double standard when it comes to objectifying people they lust? Jenni is joined by the author and journalist Lucy Cavendish and the journalist, broadcaster and author Mark Lawson.

Broadcasts