Main content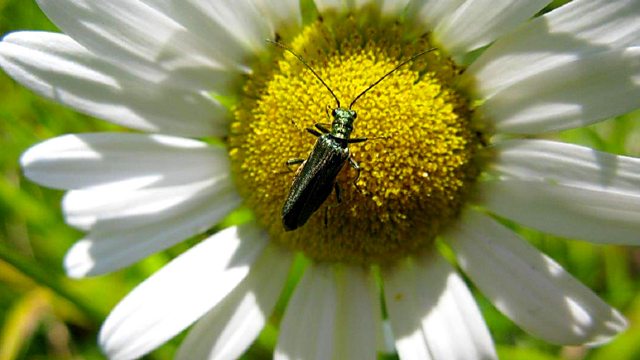 The Living Deadwood
Trai Anfield is in North Yorkshire in ancient woodland known for its deadwood bugs, led by passionate invertebrate expert Roger Key.
All trees, even ornamental species, at the end of their life are great providers of dead and decaying wood, whether they are in recognised woodlands, or as single specimens in our parklands. However far from being the end of life this provision of dead and decaying timber provides the beginning of life for rare invertebrate and fungal species. From a biodiversity point of view the conservation of this deadwood in woodlands is of critical value as many species are associated with specific species of deadwood, or certain trees.
In Living World this week, Trai Anfield travels to an old park woodland near Helmsley in North Yorkshire where she meets up with entomologist Dr Roger Key for a daylong safari looking for invertebrates contained within deadwood. The story begins with fungi. Fungus spores carried in the air are deposited on the dead wood and with luck will germinate and send hyphae into the wood gradually breaking the wood down and thus providing suitable habitats for invertebrates and their larvae.
During her quest, Trai Anfield uncovers what is actually meant by deadwood, and that as a specialist Dr Key is known as a saprophytic entomologist, one who specialises in the lifecycles of deadwood insects. During the day, Dr Key uncovers a species he has known about but never seen in the wild in 30 years of searching for it.
Exploring the park woodland it becomes clear that a complex ecosystem is in place which if we become too tidy and clear up our fallen wood it can often be the worst thing people can do as this removes vital habitats from the lifecycle of many invertebrates and ultimately reduced the vigour of the woodland itself.
Last on